This article covers the death of A/Cpl John Geoghegan B Coy 36 Inf Bn on 28 Dec 1961, he was the last member of the unit to die in 1961.
This Christmas we remember John Geoghegan as a soldier who defended Ireland during the Emergency and who volunteered as a peacekeeper in 1961.  We think of his family who received the shocking news of his death and how Christmases over the past sixty years have been marked by John's absence.  Ar dheis Dé go raibh a anam.  Blessed are the peacemakers, for they will be called children of God. (St. Matthew 5:9).


The 36 Inf Bn unit history records that A/Cpl Geoghegan was accidentally shot by a fellow soldier on Christmas Eve and died on 28 Dec but it does not much information on the accident.  Details of the circumstances of the death were found in a United Nations Archives Records Management Section digital file (Reference S-0787-0012-03-00001 FC/PERS/3047- Deaths/Funerals/Memorials, the file covers the period 15 Apr 1961 – 8 Jun 1964).  It contains a letter dated 6 Jan 1962 from Comdt James Beary, Adjt 36 Inf Bn to Capt Gerard O'Sullivan Irish Liaison Officer at HQ ONUC Leopoldville.  The letter shows that, on 28 Dec, the unit commander applied to the AG for permission to convene a Court of Inquiry into the circumstances and death of A/Cpl Geoghegan.  The letter explains how he was wounded and died from his wound; this information was provided for the Force Commander.


At approximately 1600 hours on 24 Dec 1961, Cpl Geoghegan and a Pte were on guard duty at Post No 1 in B Coy lines.  Suddenly, a number of people rushed across the road from the area of the adjacent Compagnie du Chemin de fer du Bas-Congo au Katanga (BCK) Railway Company Camp.  The camp was on Luxembourg Ave, close to the Tunnel where there had been heavy fighting during Operation Unokat.  The crowd knocked over the Pte, he fell to the ground and one round was discharged from his Gustaf SMG wounding Cpl Geoghegan in the stomach.  This was not an attack or an attempt to disarm the guard.  The Pte said that the cocking stud caught in his clothing and a shot was fired. Cpl Geoghegan was evacuated to the UN Hospital in Elisabethville where he was operated on for a torn intestine.  The Italian surgeon, who carried out the operation, said it would be six days before it would be possible to say if the operation was a success.  On 27 Dec some improvement was noted but on Thursday 28 Dec his condition deteriorated and he died at 1443 hours.  His remains were transferred to the UN Hospital in Leopoldville on 29 Dec. He was 41 years of age.


On 6 Jan 1962, his remains were removed to N'djili Airport and they were flown home by North Star flight.  The ceremony at the airport included an Irish bearer party of six from HQ ONUC, four buglers from the Queen's Own Nigerian Regt, an escort Party from the ONUC Supply Dep consisting of one officer and twelve enlisted personnel, MP and Movement Control.   A wreath was laid on behalf of the Force Commander.  The buglers sounded Last Post and Reveille before the casket was loaded on the aircraft.


His funeral was held in County Limerick and he was buried in Templeathea Cemetery.   Film Footage of the funeral


John Geoghegan was a native of Rooskagh East, Athea, County Limerick and enlisted in the Defence Forces during the Emergency in 1940, he was demobilised in 1944 and he re-joined in 1946.  He was survived by his wife Margaret, seven children, Patrick (16), Mary (12), Breda (10), Ettie (9), Anne (8), John (3) and Leo (9 Months).  His parent unit was 15 Inf Bn FCA.


His oldest son, Pat emigrated first to Canada, then he moved to New York where he joined the UN Field Service and he spent some time in the Middle East.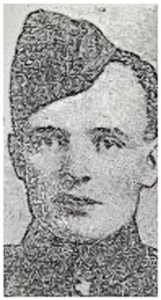 John Geoghegan
This copy of an old photo of Cpl Geoghegan was probably taken during the 1940s. It was published in an article on Saturday 31 Dec 1961 in the Irish Independent. Photo credit Irish Independent.