IRISH UN VETERANS HONOURED IN KILLARNEY JUNE 4th 2019
Minister for Defence Paul Kehoe pictured after accepting the Mons Hugh O'Flaherty Humanitarian Award 2019 on behalf of the Defence Forces in St. Mary's Church of Ireland, Killarney on Tuesday evening. Also in photo are Mayor of Killarney Niall Kelleher, Jim Casey, Chairman, IUNVA, Major General Kieran Brennan, Deputy Chief of Staff, Brigadier General Patrick Flynn and UN Veteran John O'Mahony, Hugh O'Flaherty, Pearl Dineen, Jerry O'Grady and invited guests. Photo: Don MacMonaglePress release: Before a large audience in the unique and beautiful St Mary's Church of Ireland in Killarney, including foreign Ambassadors and Diplomats and UN Veterans, Killarney's Deputy Mayor Niall Kelleher presented the Hugh O'Flaherty Humanitarian Award Scroll last evening to Minister for Defence Paul Kehoe and Irish UN Veterans Chairman Jim Casey. Representing the Hugh O'Flaherty Family and Memorial Society, Judge Hugh O'Flaherty and Pearl Dineen presented the International Humanitarian Medal to Deputy Chief of Staff Major General Kieran Brennan and Brigadier General Patrick Flynn. The Award Ceremony was preceded by a powerful performance by Donal Courtney of his acclaimed one-man play "God Has No Country", receiving a standing ovation from all present. In his introduction, Memorial Society Chairman Jerry O'Grady said, "Heroes are often defined as those who give of themselves, often putting their own lives at risk for the greater good of others. By this measure, without seeking fame or fortune, the brave men and women of the Irish Defence Forces wearing the iconic blue beret, are truly heroes, deserving of our unbridled admiration and support" Addressing the gathering, Deputy Mayor Niall Kelleher said, "From Lebanon to Cyprus and from El Salvador to Kosovo, Irish UN peacekeepers have always served with diligence and distinction. Irish Defence Forces in particular have always been warmly welcomed wherever they have served. That honourable service has probably come to greater public attention in recent years through the telling of the story of the Siege of Jadotville, but for decades now, Irish men and women have proudly entered some of the world's most dangerous and volatile regions. It is important to remember at time too those 86 members of our Defence Forces who have paid the ultimate sacrifice". In his acceptance speech, Minister Paul Kehoe said, "Just like the incredible humanitarian work carried out by Monsignor O'Flaherty over 75 years ago, the Irish Defence Forces have also brought great honour to Ireland through their participation in peacekeeping operations over the last 60 years. One of the elements that I am often struck by as Minister is the deep respect and admiration for the Irish Defence Forces right around the world". The Minister added, "Ireland's unbroken and proud history of participation in UN missions is one of the things that helps makes us stand out as a nation. It strengthens our values; it deepens our international relations; it shows that one small country can make a huge difference on the global stage. As Minister, I am determined that we continue our great Peacekeeping tradition". The minister paid a special tribute to one member of the audience, Scartaglin native Irish UN Veteran John O'Mahony. In 1980 while serving in the Lebanon, John was shot and seriously injured but happily he survived. Sadly, two of his colleagues, Pte Derek Smallhorne and Pte Thomas Barrett were killed. The final element of the Award Ceremony was the presentation of a generous bursary to the Veterans Association by Donal Hickey, Vice Chair of the Muckross House Trustees Board. Included in the audience were four members of the Raaijmakers family from the Netherlands. Their uncle Anton Musters (Fr Anselmus) was an Augustinian Priest in Rome and an active member of the Rome Escape Line. One month before the Liberation of Rome, he was captured by the Gestapo, interrogated and tortured, but he refused to reveal any information on the Rome organisation. He was being transported to a prison camp in Germany when he escaped during a stopover in Florence and returned to Rome on the day of Liberation. If Fr Anselmus had given up the Rome Organisation during torture, it is probable the Msgr Hugh and many others would not have survived the war. His bravery saved the lives of many of the Escape Line organisers. Earlier in the day, to mark the 75th anniversary of the Liberation of Rome, two symbolic trees were planted in the Graveyard of the O'Connell Memorial Church in Cahersiveen, the burial place of Monsignor Hug O'Flaherty.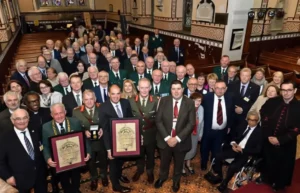 Further Information: oflahertysociety2008@gmail.com
Humanitarian Award Ceremony 4th June 2019
Killarney Co. Kerry
The Hugh O'Flaherty Annual Commemorations Award  for 2019 will be awarded to Defence Forces and Irish United Nations Veterans Associations for their Service on UN Peacekeeping missions for the past 50 years.
Presenting Party:
Mayor of Killarney
O'Flaherty Family or Society Representative
Accepting Party:
Minister Paul Kehoe
COS Mark Mellett
Defence Forces Member (Selected by COS)
IUNVA Representative Chairman Jim Casey
Speakers
MC – Jerry O'Grady (O'Flaherty Society)
Pre-Award – Mayor of Killarney
Jim Casey
Post-Award – Minister Paul Kehoe