On Sunday 12 Mar 2023, members of Post 27 Portlaoise joined the congregation of Ballinakill  and Knock Parish, in Co Laois in the  Kildare and Leighlin diocese to celebrate the 60th anniversary of the ordination to the priesthood of Fr Seán Conlon at the Irish College in Rome in 1963.  Bishop Denis Nulty officiated at the mass.
Fr Seán served as a chaplain in the Curragh for many years and he served in Lebanon with 46 Inf Bn (Nov 1979 – Apr 1980), 51 Inf Bn (May to Oct 1982) and 56 Inf Bn (Nov 1984 to Apr 1985).  We congratulate Fr Seán on his anniversary and we salute his service at home and overseas where he shared in the risks and rigours of peacekeeping in volatile and most challenging times.
Two members of the Irish Guards Association (Ulster Branch) paid a visit to personnel on the Platoon Sergeants Battle Course DFTC Curragh Camp on 06 March 2023. Bryan Phillips (Irish Guards Association) was invited to give a talk to the course on the life changing injuries he sustained while on active service in Afghanistan.
Also on hand to give presentations were Michael Thompson National Welfare Officer IUNVA and John Murray Deputy President IUNVA
An open day was held recently by Post 3 IUNVA Gorey.
The Open Day received a huge amount of interest, both from those who had served overseas and their family and those who were curious to learn more about the veterans.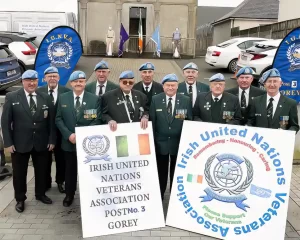 Photo:  Michael Thompson, Bill Ward, Charlie Mott, Edward Fisher, Patrick Brady, William Gilbert, Matt Kavanagh, Jim Gilbert, Charlie Mann, Michael Keegan, Bernard Manning.
Photo Credit: Jim Campbell.
Ceremony for the Placement of the ashes
of Maj Gen Vincent Savino (Retd)
IUNVA attended the ceremony held on Saturday 18 Feb at Kilternan Cemetery Park, Ballycorus Road Kilternan Dublin 18.
Gen Savino was one of the founding fathers of the Association and he was the first National President.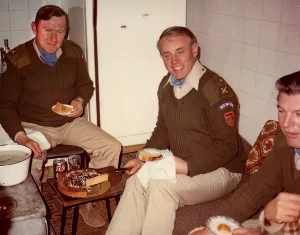 May he Rest in Peace
From DOD
Published on 26/01/2023

Address by Micheál Martin TD – Tánaiste – Minister for Foreign Affairs and Minister for Defence
UNP 2-45 UNIFIL Thursday, 26 January 2023
A new Constitution was adopted and ratified by an EGC on 10 December 2022.
To view the contents of the document please click this link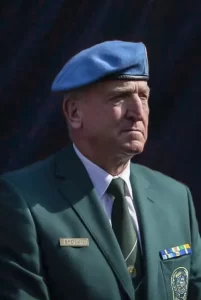 We would like to announce the National Delegates have elected Major General Kieran Brennan (Retd) as our new National President. Kieran replaces Major General Savino (Retd) RIP who sadly passed away in August 2022.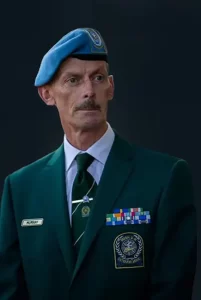 Supporting the President will be John Murray RSM (Retd) as the new Vice-President
The 2022 Annual General Forces Remembrance Ceremony
The ceremony took place on Wednesday 16 November 2022 at the National Memorial, Merrion Square, Dublin.  The ceremony commemorates members of Óglaigh na hÉireann who died in service in the past year.
This event complements the existing barrack level ceremonies that take place in installations across the country in the first week of November.  Michel Colton, President Post 1, laid the wreath on behalf of IUNVA.

The 2022 Annual General Convention was held in Clonmel hosted by Post 24 IUNVA.
Taoiseach and Chief of Staff visit troops in Lebanon
On 28 May, An Taoiseach, the Minister for Defence and COS visited Irish personnel who are serving with UNIFIL to mark the International day of United Nations Peacekeepers.
During his visit, the visiting party met with Head of Mission and Force Commander of UNIFIL, Maj Gen Aroldo Lázaro Sáenz.
An Taoiseach laid a wreath at a memorial ceremony in Tibnine in memory of the 47 members of the Defence Forces who lost their lives serving in Lebanon (46 died while serving with UNIFIL and 1 UNTSO observer). The party were briefed at UN Position 2-45 and viewed the Blue Line.
Photos credit DF PR Branch
Ceremony Collins Bks, Cork Takeover of Victoria Barracks May 1922
On 18 May 1922, troops from the National Army under the command of Capt Hugo McNeill took over Victoria Bks and the Hutments Camp. On the same day, Ballincollig Bks, Belmont Hutments Camp, Cat Fort Cork, Elizabeth Fort Cork, Queenstown Military Hospital, Youghal Bks, Youghal Rifle Ranges and Government House Cork were also taken over.
To mark the centenary, the DF held a ceremony and open day at Collins Bks.
Photos credit DF PR Branch
Centenary Ceremony Takeover of Portobello Barracks 1922
On 17 May 2022, the DF marked the centenary of the takeover of Portobello Bks, Rathmines in Dublin from British forces in 1922. In 1952, the Bks was renamed as Cathal Brugha Bks on the 30th anniversary of the death of Cathal Brugha, the Minister for Defence in the first Dáil.
The Bks was the HQ of the National Army during the Civil War.
The Minister for Defence, Simon Coveney, the COS, Lt Gen Sean Clancy and the Secretary General DOD attended the ceremony.
Photos of the ceremony and historic photos – credit DF PR Branch.
Centenary Takeover of Baldonnell Aerodrome 3 May 1922
Today the Air Corps marked the centenary of the takeover of Baldonnell Aerodrome from the Royal Air Force on 3 May 1922.
The airbase was used by the RAF from 1917.
In 1965, it was renamed as Casement Aerodrome (Aeradróm Mhic Easmainn) in honour of Roger Casement who was executed in 1916.

Photos credit DF PR Branch.
Commemoration of Centenary of the Takeover of Dundalk Barracks
From PRO IUNVA
On Wednesday 13 Apr 2022, 27 Inf Bn marked the centenary of the takeover of the Military Barracks in Dundalk from the departing British Forces.
At 1400 hours on 13 Apr 1922, Frank Aiken, commander of 4 Northern Div, took over the Barracks, his son Frank Aiken, made a speech to commemorate the centenary. The Bks was renamed in 1986 in honour of Frank Aiken.
Photos credit DF PR Branch
CPR – Defibrillator Course Post 9 Drop In Centre Athlone 18/2/22
Course held in Post 9 Drop in Centre, Athlone given by Gerry O'Malley from Heart Safety Solutions.   Also gave out the new defibrillator purchased by IUNVA for the following Posts Post 11, Post 21, Post 24 and Post 25.  A total of 12 Veterans on the course and very positive feedback from the members attending course.  They received very detailed demonstrations and carried out CPR and the operation of the defibrillator.
Many thanks to Peter Philips of Post 9 for hosting this event, to Michael Thompson for organising yet another great training course. Also, thanks to Gerry O'Malley for his expert knowledge, and for his patience and answering all questions, and listening to some of the experiences of the participants.
Major General Aroldo Lázaro Sáenz, Spain - Head of Mission and Force Commander UNIFIL
05 February 2022.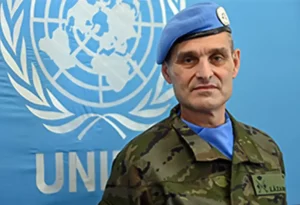 The United Nations announced the appointment of Major General Aroldo Lázaro Sáenz of Spain as Head of Mission and Force Commander of the United Nations Interim Force in Lebanon (UNIFIL).
Major General Lázaro Sáenz succeeds Major General Stefano Del Col of Italy.
Major General Lázaro Sáenz has had a long and distinguished career in the Spanish Army, currently serving as Adviser to the Ministry of Defence for Defence and Security cross-cutting affairs. He has since 2000 served in EUROFORCE Headquarters (Florence), NATO Rapid Deployable Corps Spain (Valencia), Spanish Brigade "Guzmán el Bueno" (Cordoba) in three assignments, Brigade Commander, Regiment Commander and Chief of Staff.
Major General Lázaro Sáenz has a vast international experience and has been deployed to Peacekeeping Operations: three tours in Bosnia & Herzegovina under the command of the United Nations (UNPROFOR), NATO (SFOR) and the European Union (EUFOR) respectively; and three additional tours in UNIFIL as a Liaison Officer in Naqoura, Chief of Staff and Sector East Commander.
Major General Lázaro Sáenz is a graduate of the General Military Academy and Spanish Army General Staff College in Spain and has academic training in the field of diplomacy, peace and security.
In addition to Spanish, Major General Lázaro Sáenz speaks English, French and Italian.
Kilkenny commemorates James Stephens Barracks Handover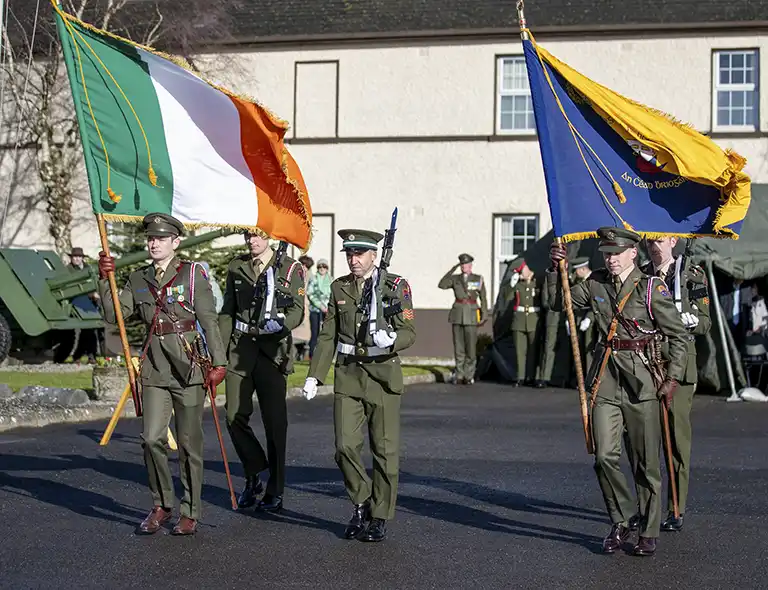 06 February 2022 – 3 Infantry Battalion, commemorated the handover 100 years ago of the handover from the British forces.  The OC 3 Inf Bn, Lieut Col Declan Crummey, lead a parade of troops from Kilkenny Castle, through the city centre, to the barracks. They were accompanied by Band of No 1 Brigade. Personnel from IUNVA were present at the parade.
The barracks was originally built in 1802 and handed over by British Forces to members of the Kilkenny IRA under Brigadier George O'Dwyer on 7 February 1922.
Now home to the 3 Infantry Battalion, it was renamed as James Stephens Barracks in the 1960s in memory of the Kilkenny born Fenian leader and founder of the Irish Republican Brotherhood.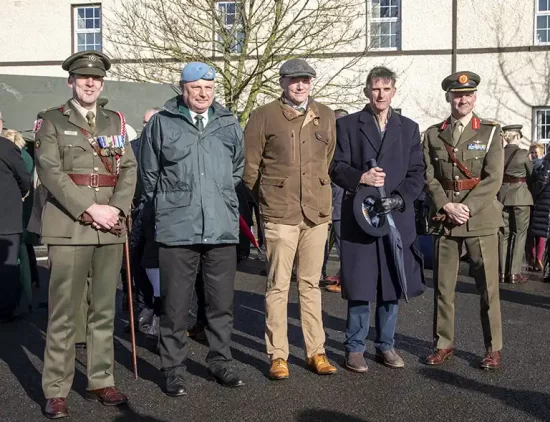 APPOINTMENT of MAJOR GENERAL KEIRAN BRENNAN - (RETD)
The National Executive Committee announce that Maj. Gen. Kieran Brennan (retd) has been appointed to the post of Vice President of IUNVA.
He has agreed to represent us at meetings with the Department of Defence and to assist us in any way that he can. He brings a wealth of experience which will be a great benefit to the association.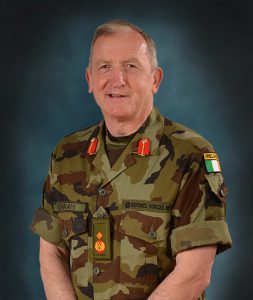 Retirement and Appointment – CEO - ONE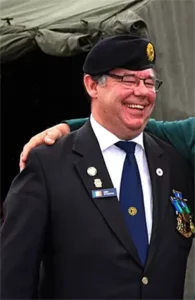 Ollie O'Connor retired from his appointment as Chief Executive Officer of the Organisation of National Ex Service Personnel, an appointment that he has held since 2006, before that, he was the Communications Officer for PDFORRA from 1997.  IUNVA thanks Ollie for his dedicated work in support of all military veterans in their time of need and for his comradeship and assistance to the membership of IUNVA in advancing the interests of veterans. 
We welcome his replacement as ONE CEO, Lieut Col Cormac Kirwan (Retd). Cormac joined the Army as a Cadet in 1988 and he served in the Cav Corps in DFTC and DFHQ.  He served overseas with UNIFIL, KFOR, EUTM Somalia and MONUSCO.   We wish Cormac every success in his new appointment.
Comdt Joe Fallon DSM (Retd) - 'Book Green Cap and Blue Beret'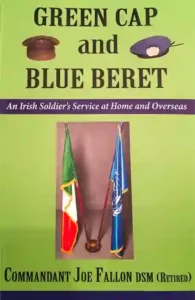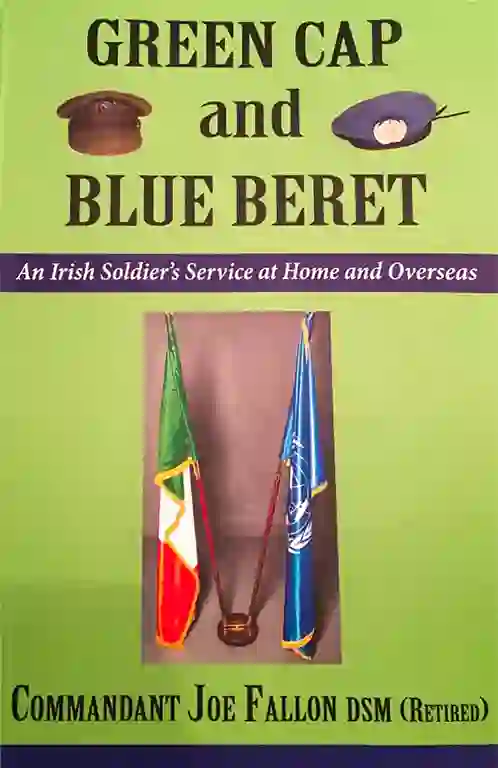 Joe Fallon  has recently published a book titled "Green Cap and Blue Beret" [ISBN:9781999616250].  His book provides an account of his family background and his service in the Defence Forces, covering both military and non-military events at home and overseas. He is donating the entire receipts from sales of his book to welfare homes for retired soldiers.  Copies of the book at €20 plus postage are available from Hayesprint Publishing.
Contact Details: Main Street, Ennistymon, Co. Clare
Phone: 065 7071125  Web: hayesprint.ie     Email: info@hayesprint.ie