From PRO IUNVA
An Overview of the Battle of At Tiri 6 – 12 Apr 1980.
Introduction
This article is intended as general background information on 46 Inf Bn operations during the week from Easter Sunday 6 Apr 1980. The challenges, tension and the dangers faced by the Bn were unprecedented; this was the first time that UNIFL stood up to the DFF and the IDF by returning fire round for round. The Israeli Defence Forces (IDF) and their surrogate militia, the De Facto Forces (DFF), continued intense and violent harassment of unarmed military observers of Observer Group Lebanon (OGL) who were part of the United Nations Truce Supervision Organisation (UNTSO) and of UNIFIL personnel in what was called the Enclave. This was a buffer zone, 5 to 6 Km wide, along the length of the 1949 Armistice Demarcation Line (ADL) between Lebanon and Israel and the limit to which UNIFIL was allowed to deploy. It was supposed to be controlled by the DFF to prevent Palestinian armed elements from infiltrating to mount attacks in northern Israel. The IDF maintained a number of "permanent violations" on Lebanese territory. The IDF and other Israeli security services frequently made incursions into Lebanon and this included violations of the UNIFIL AO.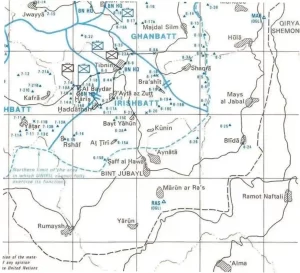 Re-manning of UNTSO OPs
In 1980, four of the five OPs (Khiam, Mar, Hin and Ras) along the ADL were manned by UNIFIL troops rather than by OGL observers. The Norwegian Bn manned Khiam, the Nigerians manned Mar, the Dutch manned Hin and IrishBatt manned Ras. In early 1980, the UNIFIL Force Commander (FC) decided to have the four OPs taken back by OGL observers. OP Khiam was taken back on 6 March, OP Mar on 20 Mar; it was planned that OP Hin would be taken over on 4 Apr and OP Ras on 10 Apr. Observers on Khiam and Mar were harassed by the DFF on an almost daily basis by firing, forcibly entering the OPs, damaging radios, stealing observation equipment, stealing personal possessions, restricting re-supply vehicles. As a result, on 2 Apr, the IDF Liaison Officer requested UNTSO COS to defer the changeover at Hin and Ras and a meeting was scheduled for 7 Apr. This meeting did not take place because of the events at At Tiri on 6 Apr.
Deployment 46 Inf Bn Apr 1980 – See scanned map Photo 1. 46 Inf Bn took over operational control of the Irish AO on 3 Nov 1979 and handed over control to 47 Inf Bn on 3 May 1980. It was the fourth Irish unit to serve in Lebanon. The Bn with 653 all ranks had two Inf Coys forward, one Inf Coy to the rear and HQ Coy and Recce Coy in the centre. A Coy was front left (facing southeast and east) with posts at Brashit village (6-16) , Hill 839 (6-19B) and Bayt Yahun (6-21); C Coy was front right (facing south) with posts at Haddatha village (6-11), Hill 880 (6-15C), At Tiri (6-15) and Total checkpoint (6-4); B Coy at the rear with posts at As Sultinyah (6-23), Dayr Natar (6-22) and for four posts in the Enclave: the OGL OP Ras and three UNIFIL positions: Blida (6-24), Mhaibeb (6-25) and Jabal As Saff (6-26). The UNIFIL posts in the Enclave were isolated and vulnerable, they were known as "behind the lines posts" or "hostage posts" or "political posts". On numerous occasions during the tour of duty of 46 Inf Bn the DFF and the IDF attempted incursions into the Irish AO, supply vehicles were hijacked, personnel were disarmed, rations and personal property were stolen by the DFF. Other contingents suffered the same harassment and restrictions in resupplying and manning the enclave posts.
Situation in the Irish AO on Easter Sunday 6 Apr 1980. The Bn sports day was being held in the pitch near Total when, at 1555 hours local time, about 26 DFF personnel, with one half track and two jeeps forcibly entered the village of At Tiri after ramming aside an Irish APC at a check-point at the entrance to the village. The DFF party was immediately surrounded by C Coy personnel who began negotiations to get them to withdraw from the AO. The DFF said their intention was to establish a permanent position at At Tiri and to patrol the area as they wished. Recce Coy mobilized and elements from HQ Coy reinforced At Tiri. More DFF infiltrated the village and their number increased to about 150, a second half track arrived, they commandeered a number of houses. The FC deployed Pl sized reserves from the Dutch and Ghanaian Bns to the Irish AO. Later in the afternoon, the DFF fired mortar, HMG and tank rounds at Irish positions in At Tiri and in Haddathah. At 1916 hours, the DFF suspended negotiations and repeated that they did not intend to leave At Tiri village, they agreed to resume negotiations on the following morning.
Monday 7 Apr 1980
At 0815 hours, one DFF Sherman tank and an additional jeep arrived at At Tiri and they opened intense small arms fire at Irish positions wounding two Irish personnel. At 0834 hours, Pte Stephen Griffin, Engr Pl, HQ Coy was shot in the left eye and suffered a mortal head wound, he died on 16 Apr. A separate article will be published on his killing. UN New York instructed that the DFF were to be prevented from setting up in At Tiri. The FC deployed further reserves from the Fijian, Nigerian and Senegalese Bns into the Irish AO and gave permission to return controlled fire. After a brief lull in the firing, the DFF resumed hostilities and some of DutchBatt APCs were hit by HMG fire. Nine Irish personnel were surrounded and taken as prisoners to the village of Saffa al Hawa. In At Tiri, the DFF remained contained by UNIFIL.
Tuesday 8 Apr 1980
The DFF threatened to kill the nine Irish prisoners unless UNIFIL withdrew from At Tiri. At 1420 hours, the DFF fired at Irish positions in At Tiri and two personnel were wounded. At 1253 hours three of the detainees were released and at 1822 hours the remaining six personnel were freed.
The Sherman tank was withdrawn to the enclave after midnight.
Wednesday 9 Apr 1980
Two Fox armoured cars and a Pl from the Nigerian Bn deployed to the Black Hole 6-20. There was considerable movement of IDF armour in the Kunin – Saff Al Hawa area and on the Bayt Yahun – Kunin road up to midnight.
Thursday 10 Apr 1980
Movement of IDF armour continued, the DFF forces brought back two tanks to the vicinity of At Tiri village and shelled the village of Brashit. Thirteen IDF M113 APCs and half tracks were deployed in the area. Incursion by sixteen DFF personnel at Hill 839 (6-19C) at 1411 hours, they withdrew after negotiations with OC A Coy. At 1650 hours the DFF fired mortars at Tibnin and Brashit.
Friday 11 Apr 1980
The situation in the Irish AO continued to be extremely tense. UNIFIL personnel fired round for round in reply to fire by the DFF. At 1035, during a visit to IrishBatt by DFC, Chief Log Officer, DCOS Ops, Press and Political officers from UNIFIL HQ, the Bn Comd and the VIP party were fired on as they moved over Hill 880, three HMG rounds hit an Irish Panhard APC. Irish and Senegalese troops returned controlled fire, no injuries were suffered. Rioting at Bayt Yahun was orchestrated by IDF and the DFF using women and children from villages in the Enclave. Some IDF vehicles and personnel withdrew from the Kunin to the area of Saffa-al-Hawa. Four B Coy personnel manning Blida (6-25) were surrounded by superior numbers of DFF and forced to surrender.
Saturday 12 Apr 1980
Around 1405 hours, DFF took up firing positions in At Tiri. Around eight civilians, mainly teenagers and women who were taken by the DFF and IDF truck to At Tiri staged a riot at 1453 hours. They rolled tyres filled with lighted petrol down the hill. At 1520, the DFF intensified fire of all UNIFIL positions in At Tiri. One Fijian soldier, Pte Sevati Sovonaivalu, was mortally wounded at 1425 hours. Three tank round were fired by the DFF at At Tiri village, 6-15 had a direct hit from DFF tank round followed by SA and HMG fire, the Dutch Pl fired one TOW missile. At 1540 hours, UNIFIL launched an attack on DFF positions. One DFF half track was destroyed, C Coy cleared houses in the vicinity of the half track, two DFF were taken prisoner, one DFF man, Massoud Bazzi (19), was killed. UNIFIL had controlled of the village by 1625 hours. At Tiri came under tank fire at 1743 hours. OP Ras came under SA fire at 1750 hours. FC ordered the pull back of reserve elements from the village, the exchange of prisoners and recovery of damaged half track.
Bn Comd ordered evacuation of personnel from Mhaibeb (6-25) and Jabal As Saff (6-26), they had to travel cross country and returned to the AO from the Enclave in the early hours of 13 Apr. The four personnel captured at Blida were released. The situation in 46 Inf Bn AO remained relatively calm until 18 Apr 1980. Access to OP Ras was denied by the DFF.