From PRO IUNVA
Sgt John Hamill, Armd Car Gp, 4 Inf Gp UNFICYP lost his life in a road traffic accident at approximately 0750 hours on 7 Apr 1965,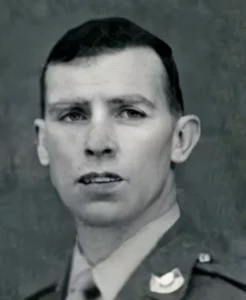 he was the second DF casualty in Cyprus. He had been travelling in a convoy consisting of four Panhard AML 60 armoured cars and an ammunition truck on the coastal road from Ktima to the firing ranges at Goshi close to Limassol. The accident happened at a severe double bend east of the village of Pissouri near the British Sovereign Base at Episkopi. Sgt Hamill was car commander in the second armoured car in the convoy, some rocks had fallen onto the road after the bend, the first Panhard avoided the rocks, but the second driver swerved; hit the embankment and the car overturned onto the turret trapping Sgt Hamill. Crews from the other cars extracted the driver and the gunner, the driver suffered non-life threatening injuries. A Greek Cypriot doctor and nurse arrived at the scene, they treated the injured and performed artificial respiration and heart massage on Sgt Hamill for thirty minutes to no avail. His body was removed to the RAF hospital at Akrotiri.
On 9 Apr, a mass was celebrated by the Chaplain, Fr Joseph Clarke CF at the Franciscan Church, Paphos Gate, Nicosia and, after full military ceremonial; his body was repatriated on Chalk 5 with 41 Inf Bn rotation. He was buried at the UN Plot in Glasnevin Cemetery on 12 Apr after requiem mass celebrated by Fr Gregory Bophy CF Curragh Training Camp at the Church of the Sacred Heart, Arbour Hill. Frank Aiken, Minister for External Affairs, represented the government. The chief mourners were his widow, Mary, his mother Mrs Mary Hamill, his brother Francis and his sister Mrs Mary Magee.
Sgt Hamill was thirty one years of age when he died and he came from Linenhall Sq, Newry Co Down. His home unit was Dep Cav, Curragh Training Camp and he lived with his wife Mary at Sarsfield Rd, Inchicore, Dublin. He joined the Army in 1953 and he had served two tours of duty in the Congo, as A/SQMS with 35 Inf Bn when he fought in Elisabethville in Sep and Dec 1961 and as Recce Tp Sgt with 2 Armd Car Sqn in Leopoldville from Sep 1962 to Apr 1963.
Suaimhneas síoraí dá anam.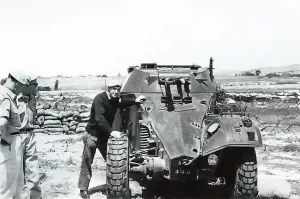 Photo captions:
Sgt John Hamill. Photo credit Mil Archives.
Sgt James McCafferty DSM with the crashed AML 60. Photo credit Dr James McCafferty DSM.