From National PRO
On St Patrick's Day 1963, Cpl John McGrath (47), who was a Medical Orderly with A Coy 38 Inf Bn ONUC, was travelling in the back of a truck from an inter-Coy football match in Kolwezi in Katanga Province to Camp Ruwe.
The Coy pennant was fixed behind the cab and the top of the flagpole struck low lying electric cables over the road causing the pole to strike Cpl McGrath on the head and severely injuring him. He was taken to hospital in Kolwezi but he died from his injuries four days later on 21 Mar 1963.
His parent unit was 4 Hosp Coy, Custume Bks Athlone. He was a native of Lismore Co Waterford and he joined the DF in 1940 during the Emergency. He had previously served in the Congo with 1 Inf Gp from May to Nov 1961. With 1 Inf Gp, he had served in Kasai Province at Mwene-Ditu, Kasia and at Lupata, in Katanga Province he was at Kamina Base and the unit fought in defence of the base and Kilubi Power Station during Operation Morthor in Sep 1961, their last posting was to Nyunzu close to Niemba in Katanga Province.
38 Inf Bn was the last Irish unit to be engaged in combat operations in the Congo, the unit fought in Operation Grandslam from 28 Dec 1962 to 15 Jan 1963 in the breakout from Elisabethville and the capture of Kipushi.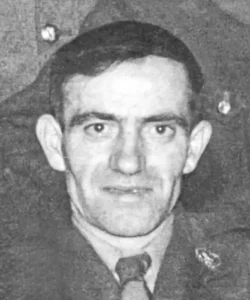 Cpl McGrath lived at Assumption Road Athlone with his wife Bridget and their family of nine children. His son, Mathew had served as a Pte with A Coy 35 Inf Bn and he was one of the hostages held at Jadotville and later at Kolwezi, Mathew's parent unit was 6 Inf Bn.
Sonas siorai da anam uasal.
Photo Cpl John McGrath, photo credit McGrath Family collection.