Patrick Eugene Watters formerly of Crossmaglen, County Armagh joined the Irish Defence Forces in March 1960. Corporal Watters served with the 5th Infantry Battalion (Dublin) and remained in service until resigning from the Army reserves in March 1965.
During his military career he took part in overseas duty during two of the United Nations (ONUC) Congo Peacekeeping missions,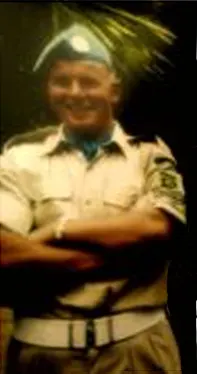 first as part of 'A' company 36th Battalion in 1961/2 stationed at Elisabethville (Leopold Farm),and following that the 38th Battalion in 1962/3 located in Southern Katanga (Elisabethville & Kolwezi). After his military career he joined An Garda Siochana in 1965 serving across the State until his retirement in 2000. He is predeceased by his loving wife and has four surviving children. The family wishes to express its grateful appreciation for the support and veterans attendance at Eugene's funeral which took place on 3rd July last.
Extra information supplied by George Kerton IUNVA PRO – Patrick Eugene Watters is shown in the unit histories of 36 Inf Bn and 38 Inf Bn with the initial P, he might have been Patrick Eugene or another P on his birth certificate.  He would have fought at the Battle of the Tunnel in Elisabethville on 16 Dec 1961 with A Coy 36, the unit had 4 killed and 25 wounded in combat.  He would have taken part in Operation Grandslam 28 Dec 1962 – 15 Jan 1963 with A Coy 38 Inf Bn, this was the final UN offensive against the Katanganese Gendarmerie. 
The two battalions were part of the major operations to bring Katanga back under central government control.