ONUC – Operation Unokat 5 – 20 December 1961
INTRODUCTION
This is the first of three articles to cover the fighting in Elisabethville during Dec 1961 where battle casualties for 35 Inf Bn and 36 Inf Bn amounted to 4 Killed and 32 Wounded.  The breakdown of the figures are: 
35 Inf Bn had 7 Wounded
36 Inf had 4 Killed and 25 Wounded.  One other 36 Inf Bn man was killed in an accidental discharge.
The total number of UN casualties in the period were:   Killed 25, Wounded 120, Prisoners 16, Missing Presumed Dead 1 (An Indian Maj).
Reported casualties suffered by Katangese Forces in Elisabethville and Manono were: Gendarmerie: Killed 207 Prisoners 40; Mercenaries:  Killed 7, Prisoners 11; Others: Prisoners 22 (believed to be Katangese civilians). Interestingly there is no figure for the numberof Gendarmerie who were wounded because they were evacuated to some of the eight native communes around Elisabethville. A report dated 26 Dec 1961 compiled by the ONUC Chief of Military Information puts the number of Katangese Forces casualties at between 300 and 500 killed and twice that number wounded in what was a two brigade offensive operation by ONUC.
ONUC Strength and Build-up in Elisabethville.
In Jul 1961 ONUC reached its maximum strength at 19,828 all ranks.  In Aug the Tunisian Bde withdrew and they were followed by the withdrawal of the Ghanaian Bde, this reduced the force to less than 15,000.  The Tunisians returned to the Congo at the end of December 1961 and the Ghanaians in January 1962.
During the fighting in Sep 1961 in Elisabethville, Kamina Base, at Lufira Bridge and Jadotville, ONUC had no combat aircraft and ONUC operations were severely hampered by the actions of one, possibly two, Katangese Forces Fouga Magister Jet fighters.  The UN appealed to Ethiopia, India and Sweden for combat air assets.  Ethiopia supplied four Sabre jets; they arrive in Stanleyville on 27 Sep.  Sweden provided five Saab J29 fighters, they arrived in Leopoldville on 4 Oct and India supplied four Canberra light bombers, they arrived at Leopoldville on 10 Oct.  The Swedish Fighter Sqn was based at Luluabourg in Kasai Province, the other Sqns were based at N'djili Airport, Leopoldville.
By Oct 1961 the number of mercenaries at large in Katanga Province was 237.
Escalating Tension.
From the middle on Nov the Katangese authorities had ramped up their anti UN propaganda campaign and Radio Katanga urged listeners to attack UN contingents.  During the search for abducted UN diplomats, an Indian Maj from 3/1 Gurkha Rifles and his driver were abducted, the driver's body was located by ONUC in woods in front of Moise Tshombe's house (President of Katanga), the Maj's remains were never found.   During the night of 2 – 3 dec there was a firefight between the Indian contingent and the Gendarmerie at Elisabethville airport.   The Gendarmerie set up roadblocks around the city, at the Kasenga Tunnel and near the refugee camp that was located near the Irish and Swedish camps.  This meant that the UN contingents in the city became cut off from each other. On 3 Dec, seven Swedes, two Norwegian and one Argentine were abducted by Katangese Forces, they were held as hostages and were eventually released on 15 Jan 1962.  The Gendarmerie reinforced roadblocks and cut off access to the airport. Three members of the Swedish Bn were shot at a roadblock at the Tunnel, a Swedish medical officer and three medics who went to assist the wounded were detained and held until 15 Jan 1962.  One of the three wounded died and his body and the two wounded were brought to the UN Hospital.
With the arrival of reinforcements into Elisabethville, Sector B was reorganised into two Brigades, Number I Bde consisting of two Swedish Bns and one Irish Bn, Number 2 Bde consisted of two Indian Bns and two Ethiopian Bns.  The railway line running through Elisabethville was the boundary between the Bdes with 1 Bde responsible for the area east of the line and 2 Bde responsible for west of the line.  At this time 35 Inf Bn was preparing for handover to 36 Inf Bn and elements of 35 Inf Bn had moved to Nyumzu and Niemba prior to repatriation, repatriation was completed by 25 Dec.  The Swedish 12 Bn was about to be replaced by 14 Bn.
On 6 Dec ONUC mounted air attacks, Swedish J29s hit the railway west of Kolwezi, Indian Canberra bombers struck the airports at Jadotville and Kolwezi where they destroyed one Fouga and three other aircraft on the ground.  While over Kolwezi, two ONUC aircraft were hit by ground fire and a navigator was wounded in the leg.  In the afternoon of 6 Dec, the Swedes cleared Gendarmerie from the area of the Tunnel.  On 7 Dec ONUC aircraft destroyed a Gendarmerie ammunition dump and two trucks on the Jadotville Road.  On 8 Dec the Gendarmerie mounted an attack on the airport, it was led by a bulldozer fitted with armoured plate, ONUC destroyed the vehicle and the attack was repulsed.    On the nights 11 – 12 and 14 – 15 Dec, Katangese aircraft bombed the airport and sniping attacks continued.  From 5 Dec, the Katangese Forces fired mortars and small arms into the refugee camp and in one attack 30 Balubas were killed and 140 were wounded.  On 11 Dec, two ONUC personnel at ONUC HQ were killed by mortar fire.  For the next week ONUC came under sporadic sniper and mortar attacks.  It was evident that the Gendarmerie were building up to conduct concerted attacks against ONUC.
Arrival of 36 Inf Bn.
The main body of 36 Inf Bn arrived in the Congo between 5 and 24 Dec 1961in twenty chalks and started to deploy in Niemba and Nyunzu in North Katanga.  On 6 Dec OC Katanga Comd informed OIC Advance Party that plans had changed and the unit would be stationed in Elisabethville.   On arrival in Elisabethville elements of the battalion manned trenches at the airport before being transported to Prince Leopold Farm.  36 Inf Bn was the first Irish unit to be issued with the Mark IV Turtle Combat Helmet and the shoulder flash with the green shamrock on the red shield.
Death of Cpl Michael Fallon
On 8 Dec, Prince Leopold Farm came under heavy mortar fire and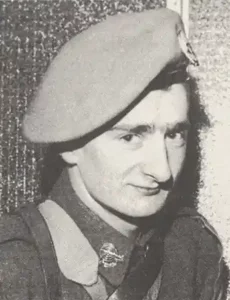 Cpl Michael Fallon, A Coy, 36 Inf Bn was killed by shrapnel, Sgt Patrick Mulcahy (McKee Park, Blackhorse Ave) Tpr Michael Kenny (Kiltimagh Co Mayo), Tpr Matthew McMullan (Ballyfermot Drive, Pte William Marsh (Crumlin) and Pte Peter Gilrain (Inchore) were wounded in this attack.
Cpl Michael Fallon, whose home address was Shan-le-Mar, Main St, Lucan, Co Dublin, was 18 years of age and single, his parent unit was 5 Inf Bn.   His father died when he was a child and he was survived by his mother, Margaret Fallon, his brother Cpl James Fallon, parent unit 2 Fd Engr Coy, who also served with A Coy 36 Inf Bn, a second brother Peter who was an electrician with the RAF and a sister Josephine.   On 12 Dec, the remains of Cpl Fallon and three other personnel who were killed in action in Elisabethville were transported to the UN Hospital in Leopoldville.  Cpl Fallon's remains were flown from N'djili Airport, home from Leopoldville and they arrived at Dublin Airport on 18 Dec.  An Taoiseach was represented by his ADC, Capt Jack O'Brien, the Minister for Defence was represented by Comdt F Neill, the COS, Maj Gen Sean Collins-Powell, the AG Col PJ Hally, OC E Comd Col PJ McNally attended the funeral.  The Requiem Mass was celebrated at 1000 hours on 19 Dec in the Church of the Sacred Heart, Arbour Hill, he was buried in the Congo Plot in Glasnevin Cemetery.
Future Articles.
In keeping with Rule 3 of IUNVA's constitution: "To ensure that the memory of those who gave their lives in the cause of peace on United Nations service is not forgotten", further articles will follow on the deaths of four other members of 36 Inf Bn who were killed in Elisabethville in Dec 1961:   Sgt Patrick Mulcahy DSM, Pte Andrew Wickham, Lt Patrick Riordan DSM and Cpl John Geoghegan.  If any member of IUNVA has photos or memories of our fallen comrades, please forward them for inclusion.
Compiled by George Kerton IUNVA PRO.