by PRO IUNVA
On 28 Apr 1995, Gda Sgt Paul Michael Reid (39) started a one year tour of duty with the United Nations Protection Force (UNPROFOR) in Sarajevo, Bosnia and Herzegovina.
On Thursday night, 18 May, he and a colleague, Gda Philip Carr, were travelling in a UN jeep from Sarajevo Airport to their base in the city. As Sgt Reid was driving on Zmaja od Bosne Street and Meša Selimović Boulevard, the main avenue into the city centre, the jeep was struck by sniper fire causing it to go out of control and crash into a concrete telephone/electricity pole at speed. The street was known as "Sniper Alley" because snipers fired at traffic and pedestrians from high-rise buildings. A UN fire and emergency crew arrived at the scene and they rendered first aid but Sgt Reid died after a few minutes from his injuries. Gda Carr, from Urris, Inishowen, Co Donegal and who was based in Dublin, was treated for serious injuries including head injuries and a broken leg. Gda Carr was later airlifted to Zagreb for medical treatment. A subsequent investigation discovered that a front wheel had been punctured and a spent round was found imbedded in the wheel.
Sgt Reid was born on 5 Jan 1956 and he came from Dundrum, Dublin. He joined An Garda Síochána on 3 Aug 1977 and, apart from a spell in Co Monaghan, he spent most of his career in Co Donegal. He was promoted to the rank of Sgt in Jun 1990 and he was Sgt-in-Charge at Burnfoot Garda Station, Co Donegal when he was seconded on UN duty. He had completed seventeen years' service as a policeman when he was killed.
On Thursday 25 May, the funeral cortege left Sgt Reid's family home at Dromore and travelled to St Eunan's Cathedral in Letterkenny. Fr Pat McHugh CC concelebrated Requiem Mass with Fr Ralph Egan, Fr Hilarian Cleary, Fr Brian Quinn and Fr Alan Ward CF 28 Inf Bn. Nora Owen Minster for Justice, Garda Commissioner Patrick Culligan, Brig Gen Pat Keogh GOC W Comd attended the funeral, Comdt Lester Costello represented the President and Capt Maurice McQuillan represented the Taoiseach.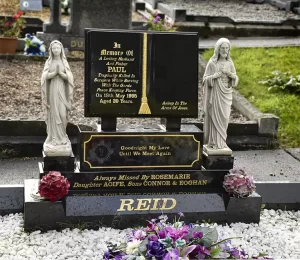 Sgt Reid was interred in Leek Cemetery.
He was survived by his wife Rosemary, their children Aoife (12), Connor (10) and Eoghan (8), his mother Margaret, brothers Declan, Alan and Kevin, and his sister Frances.
Ar dheis lámh Dé go raibh a anam dhílis
Photo
Sgt Paul Reid, photo credit An Garda Síochána
The grave at Leek Cemetery, Letterkenny, Co Donegal