By PRO IUNVA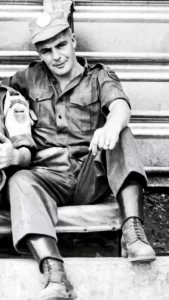 On Monday 10 Jun 1968, Cpl James Fagan (28) Armd Car Gp 10 Inf Gp was killed in a road traffic accident at Pano Zodia, Cyprus. He was taken to the mining company hospital at Pendayia, Xeros where he died after five hours. He was the 33rd member of the DF to die while on UN service and the 6th to die while serving with UNFICYP.
He was from Cooley Rd, Drimnagh, Dublin, his parent unit was 2 Mot Sqn and he enlisted in the DF on 14 Oct 1955. He completed two tours of duty in the Congo, first in 1962 with the Armd Car Gp, 37 Inf Bn when he served in Leopoldville and in Elisabethville and in 1963 with 3 Armd Car Sqn in Leopoldville. He served in Cyprus with Armd Car Gp, 3 Inf Gp in 1964 in Larnaca and Ktima, Armd Car Gp, 6 Inf Gp 1966 in Limnitis and he was serving with Armd Car Gp, 10 Inf Gp in Xeros when he lost his life.

His coffin arrived at Dublin Airport on Wednesday 12 Jun and was taken to the Church of the Sacred Heart Arbour Hill. He was laid to rest in the UN Plot at Glasnevin Cemetery following Requiem Mass celebrated by Fr Phelim McCabe, Fr McCabe also officiated at the graveside and he was assisted by Fr Ronald Neville CF and Fr Val Martin CC Drimnagh.
The chief mourners were his widow, Alice, their sons Francis (7) and James (11 months).
Lt Gen Sean MacEoin and senior DF officers led the military mourners at the funeral.

Go dtuga Dia suaimhneas sioraí dó.

Photo Credit: Military Archives