By PRO IUNVA
This article recalls the killing of Pte William O'Brien thirty six years ago while he was serving with the United Nations Interim Force in Lebanon.
On Saturday 6 Dec 1986, Pte William O'Brien (25) C Coy, 60 Inf Bn was struck in the head by a ricochet round fired from a HMG from Brashit Compound by a member of the so-called South Lebanon Army at a checkpoint at post 6-16 at HQ C Coy near Brashit village.  He was evacuated by helicopter to Ram Bam Hospital in Haifa but he died from his injuries.  The Minister for Defence, Paddy O'Toole, who was on a visit to Lebanon, attended a memorial service at UNIFIL HQ in Naquoura before Pte O'Brien's body was repatriated on Tuesday 9 Dec.  At Dublin Airport a short service was held at the airport mortuary with his wife, his parents and other family members in attendance.  An Taoiseach, Garret Fitzgerald and Minister of State for Defence, Fergus O'Brien, attended the service.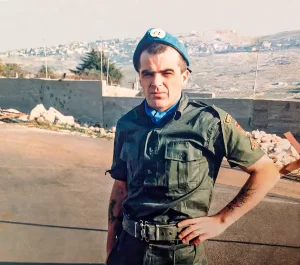 The cortège travelled to St Mary's Church, Athlone where they were received by Fr Frank Gray, Administrator.  Funeral Mass was celebrated on Wednesday when the chief celebrant was Most Rev Colm O'Reilly Bishop of Ardagh and Clonmacnoise who was assisted by Most Rev Dominic Conway Bishop of Elphin, Mons Edward Edward Dunne DSM HCF, Fr Jim Casey CF Custume Bks and other priests from the diocese.  Prayers at Coosan Cemetery were led by Bishop Colm O'Reilly and the firing party from 6 Inf Bn was under Sgt John Touhy.  
Pte O'Brien was one of sixteen children and his wife was expecting their second child.  The chief mourners were his wife Mary, their son Eric (3), his father, former CQMS John O'Brien and his mother, Christine, his brothers and sisters.  Three of William's brothers served in the DF, John completed fifteen years with the NS, Tom did twelve years in the Med Corps in Galway and Hamilton served with 28 Inf Bn for three years.  Five of his sisters were married to soldiers.   One of his brothers-in-law was the late Cpl Peter Ward who was shot dead on 29 Sep 1992 during a confrontation with Hezbollah at Al Journ Checkpoint 6–10A.
William joined the DF as a teenager; he left but re-joined a year and a half before his death. His parent unit was 6 Inf Bn.  He was on his first tour of UN duty. 
The attendance at the funeral included An tUachtaráin Patrick Hillery, the Minister for Foreign Affairs Peter Barry and Minister for Education Paddy Cooney represented the government, Lt Gen Tadgh O'Neill COS, Maj Gen Brendan Cassidy AG, Cmdre Liam Moloney ACOS, Brig Gen Kevin Murphy GOC W Comd and Lt Col Gerry Keyes OC 6 Inf Bn. 
Pte William O'Brien was the twenty first member of the DF to lose his life while serving with UNIFIL.
I measc na naomh go raibh sé.
Photo Credit: O'Brien family private collection.