In this article we remember the tragic events of sixty one years ago in Nov 1960, when Ireland suffered the highest toll on peacekeeping operations when nine men were killed by Baluba tribesmen near a bridge on the River Luweyeye on a dirt road approximately 23 Km from Niemba village in the northeast of Katanga Province in what was then the Republic of the Congo.
The nine men from A Coy 33 Inf Bn of the UN Force, Opération des Nations Unies au Congo (ONUC) who were killed were:
Lt Kevin Gleeson, 2 Fd Engr Coy, aged 30 from Terenure, Dublin originally from Borris, Co Carlow,
Sgt Hugh Gaynor 2 Mot Sqn, aged 29 from Leixlip, originally from Blanchardstown, Dublin,
Cpl Liam Dougan 5 Inf Bn, aged 24 from Cabra, Dublin
Cpl Peter Kelly 5 Inf Bn, aged 25 from Templeogue, Dublin,
Tpr Anthony Browne MMG  2 Mot Sqn, aged 20 from Fatima Mansions, Rialto, Dublin
Pte Matthew Farrell 2 Hosp Coy, aged 22 from Swords,
Tpr Thomas Fennell 2 Mot Sqn, aged 18 from Donnycarney, Dublin, born in Letterkenny, Co Donegal,
Pte Gerard Killeen CTD (E), aged 27 from Rathmines, Dublin, 
Pte Michael McGuinn 2 Fd Engr Coy, aged 21 from Blackhorse Ave Dublin, originally from Carlow town.
The eleven-man patrol from Number 2 Pl, A Coy, 33 Inf Bn had departed their base at Niemba at 1330 hours.  Niemba was 140 Kms from the Bn HQ at Albertville and the post at Niemba had been occupied since 8 Oct. 
The patrol consisted of one Lt, one Sgt, two Cpls and seven Ptes.  The patrol was armed with two Bren light machine guns, four Gustaf sub-machine guns, and four Lee-Enfield No 4 Mk 2 rifles, the medical orderly was not armed.  The patrol travelled in two vehicles, a Land Rover and a VW Pick-up truck, the Pl at Niemba Post did not have any other vehicle and the patrol was not equipped with a radio.  The patrol's mission was to carry out reconnaissance on the southern route from Niemba village towards Kiamba and Manono, to check the state of the track, and to clear obstacles if possible. During the patrol they cleared several obstacles along the route.   
At around 1500 hours, the patrol arrived at a crossing point where the road from Niemba crossed the Luweyeye River.  The planks from the bridge had been removed from the bridge and the tree trunk spans were dislodged.  The patrol dismounted from the vehicles and moved forward to see if the bridge could be repaired.   In a short time, the patrol was surrounded by a large number of Baluba tribesmen located on both banks of the river.  The Balubas attacked without warning.   Lt Kevin Gleeson ordered the patrol to disperse, and to try to escape from the ambush.  They were overcome by sheer weight of numbers and only three managed to escape from the killing zone.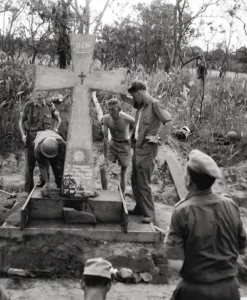 Eight of the nine bodies were recovered within days and it was two years to the day before Trooper Browne's body was recovered from the bush.
Two members of the patrol, Pte Joseph Fitzpatrick (then 21), 2 Inf Bn, from Charlemont Street, Dublin and Pte Thomas Kenny (then 24), 2 Fd Engr Coy, from Ballyfermot, Dublin survived the ambush. Pte Fitzpatrick was found on 9 Nov by a search team and Pte Kenny was recovered on 10 Nov.  They were taken to hospital in Albertville and their statements on the ambush were taken by Comdt Patrick Liddy, Legal Offr 32 Inf Bn.
In the follow-up operation to recover the missing and to retrieve the bodies, Pte Patrick Davis, 2 Fd Engr Coy died after he was shot accidentally on the night of Thursday 10 Nov 1960 during an alert.   He had been manning a Bren LMG on a veranda and a fellow soldier fired through a door at a figure he believed to have been an attacker.
On 13 Nov 1961, one year after the killings, five men from the Niemba area were tried in front of Judge A de Bevere at Elisabeth District Court Penal Sitting for their part in the ambush.  All were found guilty of murder and attempted murder, without pre-meditation.
Two received sentences of three years and three received two-year terms of penal servitude.
On 7 Nov 1962, Comdt John Gallagher (Op Offr 37 Inf Bn), accompanied by Capt James Lavery (Armd Car Gp 38 Inf Bn), Comdt Thomas McMahon (Legal Offr 38 Inf Bn) and Comdt Brendan Heaney (Medical Offr 38 Inf Bn), escorted by a platoon drawn from the Malayan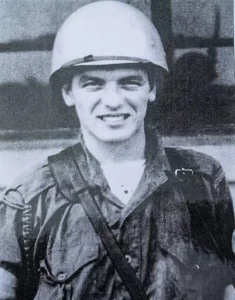 contingent, located the skeletal remains of Tpr Browne, the last soldier missing from the Niemba ambush.  The remains were transported by road to Albertville.  On 8 Nov 1962, exactly two years after the ambush, the remains were brought to Elizabethville, where an anthropologist at the Ruasi University identified the remains as those of Tpr Anthony Browne.
It is believed that Tpr Anthony Browne, escaped from the ambush area but he was killed near the village of Tundulu, after surviving for a few days.  He was awarded the Military Medal for Gallantry with Distinction.  The citation reads:
"He endeavoured to create an opportunity to allow an injured comrade to escape by firing his Gustaf thereby drawing attention to his own position which he must have been aware would endanger his life. He had a reasonable opportunity to escape because he was not wounded but chose to remain with an injured comrade.