By PRO IUNVA
This article recalls the service of the first DF chaplain who deployed on overseas service with the United Nations in Jul 1960.
Fr Cyril Patrick Crean was known as Fr Paddy and he was ordained in Rome in 1933. He worked in Harold's Cross in Dublin before he joined the British Army Chaplains' Department in 1941. He landed at Bernières-sur-Mer on Juno Beach with 29 Armd Div during the Normandy Landings in June 1944 and he continued with the Div as they fought through France, Belgium and the Netherlands. In Jan 1946, he was awarded the second highest ranking award as a Member of the Most Excellent Order of the British Empire (MBE) for his wartime service.

The citation reads: "Father Crean has been the Roman Catholic Senior Chaplain within 1 Corps throughout the campaign in North West Europe. Possessing a quiet, sincere and likeable character, he has always been on the best of terms with all ranks. He has never spared himself in his work and had afforded great assistance and comfort to many.
He has made constant visits to the wounded, often in advanced medical posts and has throughout shown great keenness and organizing ability in arranging clubs and rest rooms, which have not been confined to those of his own creed.
During the early days of the bridgehead he did invaluable work in locating the burial places and identifying the bodies of unknown airmen, who had crashed and had been reported missing. This work voluntarily undertaken by him must have been of inestimable comfort to the airmen's next of kin.
He has been a strong rock to those of his own flock, and has throughout taken the greatest interest in all matters pertaining to the welfare of the troops. He has set a very fine example and has made a great contribution to the happiness and wellbeing of the men"
After the end of WW2, he returned to Ireland and served as a curate in Fairview and later in Donnybrook in Dublin. In 1955, he was appointed Head Chaplain to the Defence Forces and he served two tours of duty in the Congo, with the first unit, 32 Inf Bn from Jul to Dec 1960 and with 36 Inf Bn from Nov 1961 to May 1962. He is mentioned a number of times in the 32 Inf Bn unit history and one comment reads: In addition to his priestly duties Rev Fr Crean proved to be an excellent interpreter and the Battalion Commander called on his services on many occasions. Fr Crean is a first class linguist, especially in French and German.
In Sep 1962, he moved from the DF and was appointed as Parish Priest of Donnybrook parish. He celebrated the 40th anniversary of his ordination in Jun 1973.
He died in Dublin on 23 Aug 1973.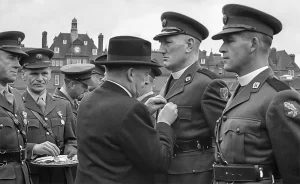 On 1 Apr 1961, An Taoiseach Sean Lemass presented UN medals to personnel of 32 and 33 Inf Bns at a ceremony at McKee Bks. This photo shows Fr Crean HCF receiving his medal, Fr Gregory Brophy, with the Curragh flash is beside him, Lt Col Mortimer Buckley, former OC 32 Inf Bn, is on the left of the photograph.