By PRO IUNVA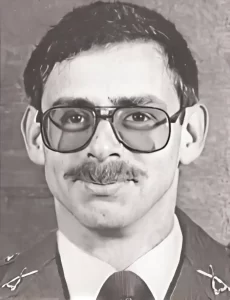 In Aug 1998, Pte Michael Dowling (31) was serving with B Coy, 83 Inf Bn UNIFIL, and he contracted an infectious illness. Initially it was suspected that he had diphtheria and he was treated with a wide range of antibiotics and other medicines. It appeared that his treatment was successful and he returned to Ireland on 15 Aug 1998 for two weeks leave.
While he was at home his condition deteriorated, on 30 Aug he visited his GP and he was admitted to St.Luke's Hospital, Kilkenny. His condition continued to deteriorate and he was transferred to Ardkeen Hospital in Waterford City on 1 Sep. He developed respiratory failure and he died on Wednesday 16 Sep 1998. On Thursday 17 Sep, his body was removed to Duiske Abbey, Graiguenamanagh and he was buried on Friday 18 Sep in St Mullins Cemetery after Requiem Mass.
He was from Ballogan, Graiguenamanagh Co Kilkenny. He was on his eight tour of duty in the Lebanon have previously served with the 62, 65, 69, 73, 76, 79 and 82 Inf Bns.
His parent unit was 30 Inf Bn, Stephens Barracks, Kilkenny.
Suaimhneas sioraí dá anam
Photo credit: Military Archives