By Pro IUNVA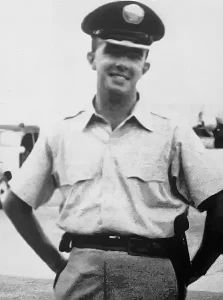 This article recalls the death of Francis Eivers in Sep 1961, he was a former Garda Sgt and was the first Irishman to die while serving in a UN civilian appointment.

On 13 Sep 1961, the UN Secretary General, Dag Hammarskjöld made his fourth visit to the Congo since the start of Opération des Nations Unies au Congo (ONUC) was established in Jul 1960 and the visit coincided with the start of Operation Morthor in Katanga Province. As the military situation deteriorated with UN forces under attack in Elisabethville, Jadotville and Kamina Base, Hammarskjöld decided on 17 Sep that he would meet with Tshombe in Ndola airport in Northern Rhodesia approximately 200 kilometres south of Elisabethville to discuss a ceasefire. At 1751 hours on 17 Sep, Dag Hammarskjöld with nine passengers and a crew of six took off on flight SE-BDY from Ndjili airport, Leopoldville, for Ndola on board a DC 6B aircraft on charter from the Swedish company Transair and assigned to the UN Force Commander, Lieut Gen Sean MacEoin.
The aircraft crashed just after midnight near Ndola, in what was then Northern Rhodesia. Hammarskjöld and 14 of the other 15 members of the party accompanying him died instantly, with the sole survivor succumbing to injuries six days later.
The passengers and crew with the Secretary-General included two UN staff members from UN New York, two UN staff from HQ ONUC, three members of the Field Service Security Guard at Leopoldville including Irishman Francis Eivers, two soldiers from 10 Swedish Battalion in Leopoldville and six aircrew.
Francis (Frank) Eivers (28) was from Ballybay, Kiltoom, Co Roscommon, approximately 7 Kms from Athlone. He was the only son of the late Frank and the late Elizabeth Eivers and he had seven sisters. He was educated at Ballybay National School and the Marist College in Athlone. He joined the Garda Siochana in 1952 he served in Kevin Street Garda Station in Dublin. He joined the UN Field Service in 1956 and served with the Security Guard at HQ United Nations Truce Supervision Organization (UNTSO) Government House in Jerusalem. He joined ONUC as a member of the Field Service Security Guard at Leopoldville in 1960. Four weeks before his death, he married Miss Marie Bills, Rathgar, Dublin on 19 Aug at the Church of the Holy Rosary Harold's Cross and he returned to the Congo just ten days before he was killed.
On Tuesday, 26 Sep the bodies of the crash victims were flown from Salisbury in Rhodesia to Leopoldville and from there to Geneva where they stayed overnight on 27 Sep. On 28 Sep they were flown to Stockholm via Malmo.
The body of Frank Eivers was brought home to Dublin on Friday 29 Sep on a Pan American special charter flight, the aircraft continued to Canada and the USA with the bodies of five other victims of the crash. Frank Aiken, Minister for Foreign Affairs, Oscar Traynor, Minister for Justice, the Swedish Ambassador, Leif Ohrvall, Garda Commissioner Daniel Costigan, Lieut Col G M Ó Foghlú representing COS and Capt Jack O'Brien ADC to An Taoiseach were at Dublin Airport. Pall bearers and escorts were provided by An Garda Síochána.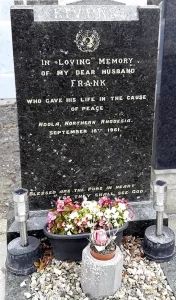 The chief mourners at the airport were his wife, Mrs Marie Eivers, his mother Mrs Elizabeth Eivers, his sisters Mrs John Hernon (Galway), Mrs John Mannion (Tubbercurry), Mrs John Dolan (Athlone), Mrs Eric Blackwell (Northhampton), Mrs Sean Morrissey (Northampton) and Ms Rose Eivers (Ballybay).
Frank Eivers was buried at Mount Jerome Cemetery, Harolds Cross Dublin on Saturday 30 Sep following Requiem Mass at the Church of the Holy Rosary Harold's Cross celebrated by Fr Michael Browne.
The grave at Mount Jerome Cemetery, Harold's Cross.
Ar dheis lámh Dé go raibh a anam dhílis.