From National PRO
On 10 Mar 2019, a Boeing 737 Max jet airliner crashed shortly after taking off from Addis Ababa in Ethiopia en route to Nairobi, the crash scene was near Bishoftu, around 50 Kms southeast of the capital.  The Ethiopian Airlines flight ET302 crash killed all 157 people on board, which included an Irish UN staff member, Michael Ryan (39), from Attychristoria, Lahinch in Co Clare.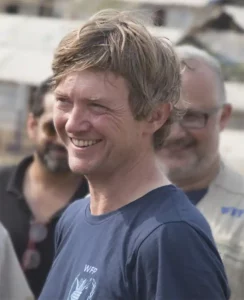 He was born on 28 Mar 1980 and he lived at Pope's Quay in Cork city with his wife Naoise, their daughter Saorlaith, who was three years old at the time, and their baby son MacDara, who was just six months old.    He worked in Rome as Deputy Chief Engineer with the United Nations World Food Programme (WFP), the world's largest humanitarian organisation addressing hunger and food security.  The family had planned to move home to live in Rome on the week after the crash.  He had previously served in the field for the WFP with the Rohingya refugees in Bangladesh and in Nepal.
A total of 21 UN staff members perished in the crash, seven were his WFP colleagues and others were serving with the UN Environment Programme (UNEP), the Office of the High Commissioner on Refugees (UNHCR), the International Telecommunications Union (ITU), the Food and Agriculture Organization (FAO), the International Organization for Migration (IOM), the World Bank and the UN Office in Nairobi (UNON). They were travelling to a five-day long UN Environment Assembly conference in Nairobi, Kenya.
An tUachtarán, Michael D Higgins led tributes to Mr Ryan and the other victims following the disaster "I express my deep sadness for the tragic loss of so many lives in the air crash in Ethiopia and may I convey the deepest sympathy of the Irish people to all the families and communities affected," he stated.  "In particular I wish to extend my deepest sympathies to the family of Micheál Ryan, whose work in humanitarian assistance for the World Food Programme brought him onto the flight."
Michael Ryan's body was recovered in Oct and after identification, he was laid to rest in a private family funeral in Ennistymon New Cemetery on 29 Oct 2019.
Suaimhneas sioraí dá anam.
Photo captions.
Michael Ryan. Photo credit WFP.