By PRO IUNVA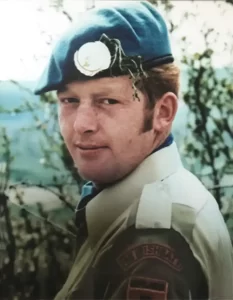 Pte Stephen Griffin (21) was fatally wounded on 7 Apr 1980 in At Tiri, South Lebanon when he was shot in the head by the De Facto Forces (DFF) who were under the control of the Israeli Defence Forces (IDF). He was evacuated to Rambam Hospital in Haifa, Israel where he died from his wound on 16 Apr. On 9 Apr, one of his brothers, Michael and a sister, Catherine, travelled to Israel and, after a number of days, the decision was taken to switch off life-support equipment, they consented to donating his organs. One of the recipients was a girl aged 16 and the other was a man 32 year old – one was an Israeli and the other was an Arab Israeli. He was the first Irish fatality killed by hostile action on UNIFIL service.
After he finished his second level education at the Vocational School Fr Griffin Rd Galway, he joined the DF as a member of 19 Apprentice Platoon at the Army Apprentice School, Devoy Bks, Naas on 16 Oct 1974 where he trained as a carpenter. He was posted to 1 Fd Engr Coy in Collins Bks Cork when he passed out in 1977. Stephen was from Rahoon in Galway and an accomplished sportsman, an excellent hurler and an All Army boxer. He won the Irish Junior Middleweight title in 1979 and he boxed for Rahoon and in Cork with the Father Horkan Boxing Club.
He deployed to Lebanon in Oct 1979 with the Engr Pl, HQ Coy 46 Inf Bn – this was the fourth Irish unit to serve in Lebanon.
On 19 Apr, Capt Tom Rigney escorted the coffin from Beirut to Dublin, to the Church of the Sacred Heart, Arbour Hill, pall bearers were from his home unit, 1 Fd Engr Coy.
On Sunday, 20 Apr, as the funeral travelled across the country to Galway, hundreds of people turned out to pay their respects along the route. A wreath was placed on the coffin at Athlone on behalf of the wives of personnel whose husbands were serving with 46 Inf Bn. Bishop Eamon Casey received the coffin at the church in Rahoon and he paid tribute to Pte Griffin and his peace-keeping role. He said "Stephen died, not as an individual, but in your place and in mine."
On Monday, 21 Apr, at 1100 hours, the funeral mass was celebrated at St Joseph's Church by Fr. Des Carroll, Fr. Michael Kelly CF, Fr. Gerald Keohane CF and he was laid to rest in Mount St Joseph New Rahoon Cemetery. Sgt Cyril Tierney 1 Cn Cois was in charge of the firing party. President Hillery was represented by Col Dónal Suibhne, the Taoiseach, Charles Haughey was represented by his ADC, Comdt Christopher Leaney. The representatives from the DF included Lt Gen Carl O'Sullivan COS, Maj Gen William Callaghan AG, Brig Gen Kevin Nunan GOC S Comd, Brig Gen Louis Hogan GOC W Comd and Dep Commr Lawrence Wrenn represented An Gárda Síochána.
He was survived by his parents, Sarah and John; his ten siblings, brothers Thomas, Seamus, Padraic, Peter and Michael; sisters Catherine, Mary, Aine, Gabrielle and Mrs Siobhan Leonard.
Suaimhneas sioraí dá anam.
Photo Caption. Pte Stephen Griffin, photo credit Military Archives