From National PRO
Cpl John (known as Johnnie) Power, A Coy  36 Inf Bn, died at the UN Hospital Elisabethville on 7 Mar 1962 from natural causes. He had been admitted to hospital on 27 Feb.  His remains were removed from the UN Hospital in Leopoldville on 20 Mar 1962 and they were flown home from Ndjili Airport by the UN contracted airline North Star.  Capt Leo Dawson (Armd Car Gp) who was Acting Irish Liaison Officer at HQ ONUC coordinated the ceremony at the airport.  Irish personnel at HQ ONUC provided the bearer party, the Queen's Own Nigerian Rifles provided an escort of 1 officer and 30 enlisted personnel and the Corps of Drums, all other contingents had representatives.  The ceremony included a prayer by a chaplain, sounding of Last Post and Reveille, wreaths were laid on behalf of the Officer-in-Charge Mr Robert Gardiner and the Force Commander Lt Gen Seán MacEoin.
On Friday, 23 Mar, his coffin was transported from Dublin for interment at Foulkstown Cemetery Co Kilkenny.
John Power was a native of Ballytruckle, Waterford, he was aged 37 and he had twenty years service in the Army.  He served with the MP Corps in Kilkenny, the Curragh and Cathal Brugha Bks..  The 36 Inf Bn unit history shows his parent unit as 2 Inf Bn. 
He lived with his wife Johanna and their seven children Rose (16), Michael (15), Stephen (13),Sean (12), Mary (10), James (8) and Martin (2) at Dean Cavanagh Place, Kilkenny.
Ar dheis Dé go raibh a anam dílis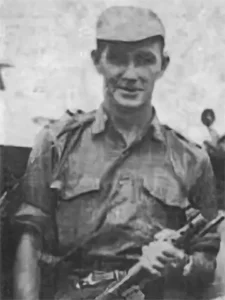 Photo  Cpl John Power, credit Mil Archives.