By PRO IUNVA
In this article we remember Cpl Michael McCarthy (33) who was shot dead by the Israeli Defence Forces (IDF) controlled militia, the so-called South Lebanon Army (SLA) on Friday 15 Nov 1991.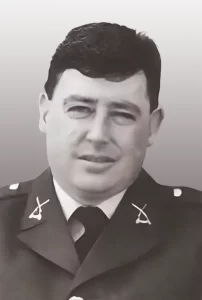 Cpl McCarthy B Coy, 70 Inf Bn arrived in Lebanon on 23 Oct 1991 on his third tour of UN duty, he had previously served in Lebanon with 57 Inf Bn in 1985 and with 66 Inf Bn in 1989 – 90.
As dusk was falling on 15 Nov 1991, he was on patrol with four B Coy personnel near the village of At Tiri, they were monitoring the activities of a group of SLA personnel who were moving along a track north of the village, the SLA were in the area from 1515 hours local time and they had come from the so-called Israeli Controlled Area (ICA).  The Irish personnel were on the main street when they came under fire without warning around 1600 hours.  Cpl McCarthy was shot dead, he received gunshot wounds to his head and chest, Pte Richard McGrath, who was from Carrick-on-Suir and whose parent unit was 12 Inf Bn, Kickham Bks, Clonmel, was wounded in both legs, the other three personnel were unhurt.  The Irish personnel did not return fire.  The medical orderly who was with the patrol, Pte Camillus Ryan (parent unit 1 Hop Coy) dragged Pte McGrath to safety while under fire, he treated both casualties and organised their extraction from the scene by armoured ambulance.  Pte McGrath was evacuated to the field hospital at Naqoura. 
The Israeli ambassador, Yoaz Biron, who was based in London, was summoned to Dublin by the Minister or Foreign Affairs, Gerard Collins, to explain the actions of the SLA.  Biron claimed that while the IDF "cooperated" with the SLA, they did not control their operations.  Other Israeli diplomats claimed that Hezbollah had shot and killed a member of the SLA in At Tiri.  This was strongly refuted by UNIFIL and the DF Press Officer because there was no resistance activity in the village at the time, the SLA man had been killed by an accidental discharge by one of his own. 
Cpl McCarthy was from Rathclare, Buttevant Co Cork and he joined the DF in 1981.
He was survived by his wife Margaret and their children Sharon (8) and Justin (3), his parents Mr and Mrs Denis McCarthy, his brothers Denis, Patrick, Jerry and Martin, his sisters Joan, Nollaig and Sheila.
Cpl McCarthy's coffin was repatriated through Ben Gurion Airport in Israel via London and Dublin to Cork Airport on 26 Nov and from there to Buttevant, he was escorted from Lebanon by Capt John O'Shea.  He was taken to St Mary's Church, Buttevant on 27 Nov and his funeral mass was celebrated on Thursday 28 Nov at 1100 hours, Fr Michael O'Brien PP Buttevant received the remains, he was assisted by Fr Dec Campion CF NS Haulbowline.   Bishop John Magee of Cloyne was the chief celebrant; he was assisted by Mons Raymond Field HCF, other DF chaplains and An tAthair Dónal Ó Bríain. 
The attendance included President Mary Robinson, the Lord Mayor of Cork, Denis Cregan, the Minister for Defence, Vincent Brady, Lt Gen James Parker, COS , Patrick Culligan, Gda Commr, Maj Gen Noel Bergin, AG, Brig Gen Michael Minehane, GOC S Comd, Col Joseph Young OC 1 Bde, Lt Col William Egar OC 4 Inf Bn, Lt Col Patrick McHale OC S Comd FCA, An Taoiseach, Charles Haughey was represented by is ADC, Lt Cdr Charles Lawn.
Cpl McCarthy was buried in St Gobnaith's Cemetery, Mallow. 
I measc na naomh go raibh sé.
Photo Credit: Military Archives.