From PRO IUNVA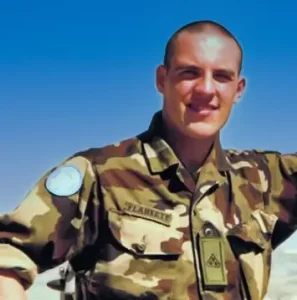 Twenty years ago on 15 Apr 2002, SS Peadar MacDara Ó Flatharta (21), 8 Irish Component with the United Nations Transitional Administration in East Timor (UNTAET) was accidentally shot. He had been on a three-day patrol in the Fataluro area approximately 3 Km from the Irish base near Taroman village. The twelve personnel in the patrol were walking into a school to set up camp for the night when a round was discharged from a fellow soldier who had his rifle slung across his chest. He received medical attention at the scene and was evacuated by helicopter to a military hospital where he was pronounced dead, he was the 84th member of the DF to die while on overseas duty.
He joined the Army in Nov 1999, his parent unit was 1 Cn Cois, Dún Uí Mhaoilíosa, Renmore, Galway and he was on his second tour of duty with the UN, he had served with 88 Inf Bn in Lebanon from Oct 2001 to May 2002. He was from Trá Bháin, Leitit Mór in Connemara, Co Galway.
More than 300 cumulative tours of duty were completed by DF personnel in East Timor from Jul 1999 to May Oct 2004, initially with the International Force East Timor (INTERFET), a UN-mandated mission led by Australia until Feb 2000, then United Nations Transitional Administration in East Timor (UNTAET) until May 2002 and the United Nations Mission of Support in East Timor (UNMISET) from May 2002. UNTAET suffered 17 fatalities, 1 civilian police and 16 military. SS Ó Flatharta was the only Irish fatality with UNTAET.
His coffin arrived at Galway Airport on 21 Apr via Darwin in Australia and London Heathrow Airport. The coffin was escorted from East Timor by Capt Frank Flannery and the cortege went to University College Hospital, Galway before it was taken to the family home in Trá Bháin, where it remained overnight. The Requiem Mass was held in the Church of the Immaculate Conception at Tír Nee on 22 Apr and he was laid to rest in Trabane Cemetery, 1 Cn Cois provided the bearer party under the command of Sgt James Twohig.
The chief mourners were his parents, Joseph and Maureen, his brothers Pádraic and Tomás, his sisters Máire and Anne and his girlfriend Ann Flaherty.
Ar dheis Dé go raibh a anam dílis agus comhbhrón le teaghlach Pheadar.
Photo: An Saighdiúr Singil Peadar Ó Flatharta. Photo credit Ó Flatharta family collection.