By PRO IUNVA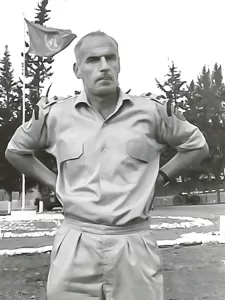 In this article we remember one of the nine members of the DF who died while serving with the United Nations Peacekeeping Force in Cyprus (UNFICYP)
Lt Ronald B Byrne (43) joined the DF in 1945 and he was one of twenty students who were commissioned from 1 Potential Officers Course in Dec 1962.  He served in Collins Bks Cork initially with 1 Fd Sigs Coy and then with 4 Inf Bn.  He was a native of Bray Co Wicklow and he was a single man.
He deployed on his first tour of UN duty to Cyprus in Aug 1968 as Assistant QM with 11 Inf Gp.  He died suddenly from natural causes at Xeros Camp on 28 Oct 1968.  His funeral mass was celebrated at the Church of the Sacred Heart Arbour Hill on Thursday 31 Oct 1968 and he was buried at the UN Plot in Glasnevin Cemetery. 
He was survived by his sister Mrs Alicia Higgins from Bray, relatives and friends.
He was a keen golfer and he was a member of Cork Golf Club at Little Island.
Solas na bhflaitheas air.
Photo Credit: Military Archives Section.