By
PRO IUNVA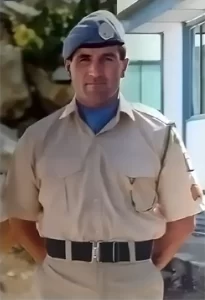 This month, on his thirtieth anniversary, we remember Cpl Peter Ward (29) who was killed while he was serving with C Coy, 71 Inf Bn.
On 29 Sep 1992, a confrontation developed at Al Journ Checkpoint 6–10A between Irish personnel from A Coy and approximately twenty armed elements from Hizbullah who attempted to force their way through the checkpoint. Pte Neil Coleman (22) from Drimnagh, Dublin suffered gunshot wounds to his stomach and he was evacuated to the Field Hospital at Naqoura.
Three SISU Pasi XA-180 APCs were deployed to the scene and Cpl Ward was leader in one of the SISUs when he was shot in the chest by unknown gunmen on the way from Brashit to the checkpoint. He was given first aid at the scene and he was taken to Brashit but he died as he was being prepared for evacuation by helicopter.
He had previously served with 51 Inf Bn in 1982 and with 63 Inf Bn in 1988. He joined the DF in May 1980 and his home unit was 6 Inf Bn, Custume Bks Athlone. He was from Cattan, Annaghmore, Mohill, Co Leitrim. He was an accomplished sportsman. he had a black belt in karate and he was a coach in martial arts. He was winner in the Military Pentathlon and an All Army boxing champion.
His body was repatriated on Friday 2 Oct and the coffin was escorted by Capt Frank Sheeran and Cpl Ward's brother-in-law, Pte Noel O'Brien. He was taken to St Mary's Church, Athlone. Requiem Mass was celebrated on Saturday by Monsignor Raymond Field HCF and Fr Pat Lennon, Administrator St Mary's. They were assisted by Fr Jim Morrison CF Custume Bks, Fr Frank Gray PP Ferbane, Fr Florian Farrelly OFM St Anthony's Athlone, Fr Tom Cox CC, Fr Peter Burke CC, Fr Sean Casey CC and DF chaplains.
The chief mourners were his wife Pauline, their four children Emma, Louise (8 year old twins), Martin (5) and Kim (3), his parents Paddy and Bridget Ward, father-in-law and mother-in-law John and Christina O'Brien, his sisters Rose Egan and Marie Ward.
President Mary Robinson was represented by her ADC, Col Pierse Redmond, An Taoiseach Albert Reynolds attended the funeral as well as the Minister for Defence John Wilson, COS Lt Gen Noel Bergin, GOC W Comd Brig Gen Patrick Purcell, Brig Gen Patrick Cranfield GOC AC, Capt (NS) Michael Murphy represented FOCNS, Asst Commr Hugh Sreenan represented the Garda Síochána.
His brother-in-law, Pte William O'Brien, who was his wife's brother, was shot and killed by the Israeli controlled so-called South Lebanon Army (SLA) on 6 Dec 1986

Cpl Ward was buried at Coosan Cemetery.
I measc na naomh go raibh sé.