From PRO IUNVA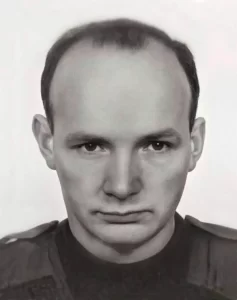 On 14 Jun 1993 CQMS Declan Stokes (39), 28 IrComp (Irish Component, Camp Comd, UNIFIL HQ) collapsed while playing in an inter-unit football match at Haris in South Lebanon. He was evacuated by helicopter to the UNIFIL Hospital at Naqoura but he was declared dead at the hospital from a heart attack. His remains arrived at Dublin Airport on Thursday 17 Jun. Requiem Mass was celebrated at St Bridget's Church, Kilcullen on Saturday 19 Jun and he was buried in New Abbey Cemetery, Kilcullen, Co Kildare.
His parent unit was Mil Col.

The family lived at Brannockstown Naas.
He was survived by his wife Agnes, their five children Declan, Darren, Sharon, Lisa and Emma, his mother, relatives and friends.
I measc na naomh go raibh sé.

Photo Credit: Military Archives