By PRO IUNVA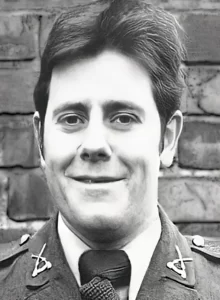 On 23 Jun 1981 Pte Niall Byrne (21), C Coy 49 Inf Bn was killed in a traffic accident when a Land Rover in which he was travelling in as front seat passenger overturned, the driver suffered non-life threatening injuries.  A DF statement said one of the vehicle's wheels went off the track and the accident happened when the driver tried to compensate for this.  The accident happened after personnel had been dropped off at Dayr Ntar and the vehicle was returning to As Sultaniyah.
Pte Byrne's home unit was 6 Inf Bn Athlone, he had joined the Army in 1977.  He was from Assumption Rd Athlone and was living with his wife Rose and their daughter Michelle in Battery Heights, Athlone.
His remains arrived at Dublin Airport on Friday 26 Jun and were taken to St Mary's Church Athlone.  Requiem Mass was celebrated on Saturday 27 Jun followed by burial at Coosan Cemetery, Athlone, Co Westmeath.
The chief mourners were his wife and daughters, his parents, his brothers and sisters.  One of his brothers, Pte Sean Byrne, served with 4 Grn Ord Coy in Custume Bks.  
Ar dheis lámh Dé go raibh a anam dhílis.
Photo:  Pte Niall Byrne, credit Military Archives.