By PRO IUNVA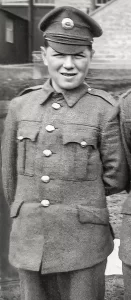 Cpl Vincent Michael Duffy (37) was killed in an accident when the Landrover he was travelling in left the road and overturned on the road between As Sultaniyah and Tibnine on Saturday 18 Oct 1980.  He was serving with 47 Inf Bn and he was on his second tour of duty with the UN having served with UNFICYP in Cyprus in 1971, his parent unit was 6 Fd Sigs Coy, C Comd.
He was born on 20 Aug 1943 in the Families Hospital GMH in the Curragh Camp and he grew up in McDermott Tce.  His brother, Paddy, served as a Cook in the MP NCOs Mess.   His father was Sgt Peter Duffy from Ballybay, Co Monaghan who was the Cook Sgt in McDermott Officers Mess and his mother was Emily née Corcoran from Mullingar.  Emily's father, James Corcoran was a Connaught Ranger who served in India and South Africa, Emily was born in Malta while her father was serving there. 
Vincent was educated at the Boys School and the Post Primary School in the Camp.  After leaving school he worked as a stable boy before he joined the DF.  He married Bernadette (Bernie) née Reid and they lived with their three daughters at Highfield Estate, Newbridge, Co Kildare.
His body was repatriated via Beirut on Friday 24 Oct and taken to St Brigid's Garrison Church, Curragh Camp.  His funeral mass was on Saturday and it was concelebrated by Fr Phelim McCabe HCF, Fr Denis Harrington Chaplain-in-Charge Curragh, Fr Sean Conlon CF Curragh and Fr Garrett Murphy PP Newbridge.
The chief mourners were his wife Bernadette and his three daughters Ruth (12), Georgina (9) and Vanessa (7). 
Military mourners included Maj Gen Bill Callaghan, AG, Brig Gen Kevin Nunan DSM, GOC C Comd, Col James Fagan, OC 6 Bde, Col Eamonn O'Brien, D Sigs and Col Henry Crowley, CMC.
Personnel from 6 Fd Sigs Coy and other units from Ceannt Bks lined the route to St Conleth's Cemetery and 3 Inf Bn provided the firing party.
Ar dheis lámh Dé go raibh a anam dhílis.
Photo  Credit:  the Duffy family private collection.