From National PRO
On Thursday 17 Mar 1988, Gnr Paul Cullen (20) 62 Inf Bn UNIFIL, tragically lost his life in an accident while he was on leave in Limassol, Cyprus.
He was on his first tour of overseas service and he along with three comrades was in the holiday resort before they were due to finish their tour of duty in April. The four had attended a disco and Gnr Cullen had left his apartment keys at the disco. He made his way onto the roof and was trying to climb down to his apartment window using a wire cable when he fell.
His parent unit was 2 FA Regt and his home address was Seacliff Road, Baldoyle, Dublin 13. He was survived by his parents, Thomas and Philomena and four brothers, Thomas, Philip, John and Andrew. His brother Thomas had passed out with his recruit platoon on 16 Mar.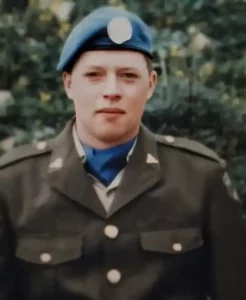 Another of his brothers, Philip, also served in 2 FA Regt for a number of years. He was the twenty fourth member of the DF to die while on UNIFIL service. His remains were repatriated to Ireland on Tuesdy 22 Mar 1988 and he was laid to rest in Palmerstown cemetery Co Dublin.
Go ndéana Dia trócaire air.
Photo Credit Military Archives.
.