By
PRO IUNVA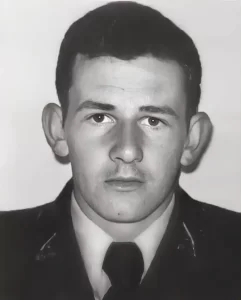 Pte Finbarr Gerard Moon (18) B Coy, 43 Inf Bn was killed in a road traffic accident on 25 Aug 1978 while he was serving with the first DF unit to serve with UNIFIL, 43 Inf Bn. He was Ireland's first fatality in Lebanon. He was fatally injured close to the village of Brashit and Pte James Cashman from the Glen, Cork sustained leg and head injuries in the accident, he was evacuated to Ram Bam Hospital in Haifa.

The parent unit for both Pte Moon and Pte Cashman was 4 Inf Bn. Lt John Sheehan, Pl Comd, B Coy accompanied the remains to Ireland on 28 Aug.

Pte Moon, who was from Fairfield Ave, Farranree, Cork, was born on 23 Sep 1959 and he was one of ten children. He was an accomplished footballer; he played GAA with Na Piarsaigh and soccer with Blackpool Celtic.

On Wednesday 30 Aug, his coffin was taken from Dublin Airport Church to the Church of the Resurrection, Farranfree. He was buried at Rathcooney Cemetery following Requiem Mass on Thursday 31 Aug 1978. He was survived by his parents, Mr and Mrs Albert Moon, his seven brother and two sisters.
Go ndéana Dia trócaire ar a anam dhílis.
Photo  Credit:  Military Archives.