In this article we remember Comdt Michael Pacellis O'Hanlon (39) who died in Nov 1989 while on his second UN tour of duty in Lebanon.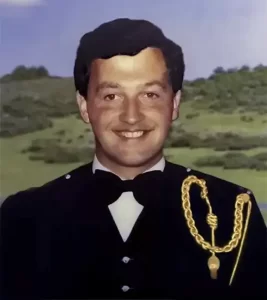 Comdt Michael (Mick) O'Hanlon was born in Cork on 6 Jul 1950, he joined the DF as a Cadet with 47 Cdt Class in Apr 1972 and he was commissioned in Sep 1973.  He served for most of his career in the Curragh Camp with GTD, Dep Sigs, HQ C Comd and with the Audio-Visual Staff in Trg Sec DFHQ.  He was conferred with a B Comm degree from UCG and he qualified in catering management at the Dublin College of Catering, Cathal Brugha Street.
At 0640 hours Comdt O'Hanlon was wounded at Camp Shamrock, Tibnine by an accidental weapons discharge from a pistol and he was pronounced dead by the MO at 0700 hours.  He was serving as QM 66 Inf Bn and he had served previous as 2 IC B Coy, 50 Inf Bn from Nov 1981 to Apr 1982.
Originally from Montenotte, Cork, he lived at Monread Heights, Naas, Co Kildare with his wife Valerie, their daughter Laura (4) and their son Robert (1).  He was a talented rugby player and a golfer and was involved in the Curragh Rugby Club and the Golf Club. 
He was survived by his wife Valerie, daughter Laura and son Robert, his mother Mrs Sheila O'Hanlon and his brother Thomas.  A memorial service for Comdt O'Hanlon was held at the Fallen Heroes Memorial Square at UNIFIL HQ Naqoura on 24 Nov.  The Force Commander, Lt Gen Lard-Eric Wahlgren with senior military and civilian staff together with representatives of the nine contingents paid their respects.  Fr Patrick Breslin CF officiated t the service, the FC, Col Seán MacNiocaill Irish Contingent Comd and Lt Col Vincent Blythe, CO 66 Inf Bn laid wreaths.  Comdt O'Hanlon was the 32nd member of the DF to die while on UNIFIL service.
His body was repatriated on Thursday 23 Nov and he was taken to the Church of Our Lady and St. David,
the Parish Church in Naas.  His funeral mass was celebrated on Friday 24 Nov at 1130 hours and he was buried in St Corban's Cemetery. 
Photo Credit: Family Collection.
Ar dheis Dé go raibh a anam dílis.