By PRO IUNVA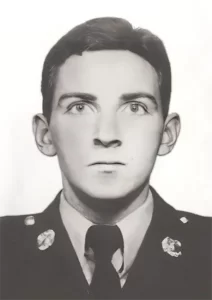 In May 1984, Cpl George Murray (21) deployed overseas to Lebanon as a member of the MP Sec, HQ Coy, 55 Inf Bn UNIFIL.  On Tuesday 9 October, he was on a routine convoy from Tibnine to UNIFIL HQ, Naqoura and the convoy arrived at the FHQ around 0900 hours.  A short time later, Cpl Murray called to the UNIFIL MP Coy at Camp Martin where he suffered gunshot wounds from an accidental discharge from his Gustaf SMG, he died at the scene. 
He joined the Defence Forces in May 1980 and his parent unit was 2 Grn MP Coy.  He was from Drumalee Rd, North Circular Rd, Dublin.
His remains were repatriated on Sunday evening 14 October and he was taken to the Church of the Sacred Heart Arbour Hill.  Funeral Mass was held on Monday and he was buried at Glasnevin Cemetery.
The chief mourners were his parents George and Delores Murray, his brothers Alan (who was a Bandsman in the DF Sch of Music), Glenn, Donal and Eddie, his sisters Rita and Delores.
Solas na bhflaitheas air.
Photo credit:  Military Archives Section.