By PRO IUNVA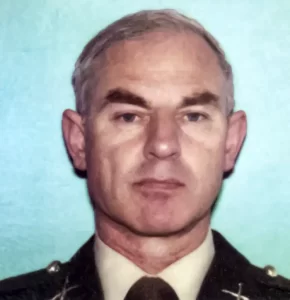 On 2 Sep 2005, Comdt Michael Paul O'Donnell (Retd) (he was known as Paul) died from natural causes while serving in a civilian appointment with Mission de l'Organisation des Nations Unies en République démocratique du Congo (MONUC) [the United Nations Organisation Mission in the Democratic Republic of Congo]. He had served in New York at UN HQ before he served in DRC.
He grew up in what was then the garrison town of Mullingar, Co. Westmeath, where his father, Comdt Michael O'Donnell was serving in Columb Bks. After he completed his secondary education, he joined the DF as a member of 42 Cadet Class on 17 Oct 1967. When he was commissioned as a 2/Lieut on 22 Sep 1969 he was assigned as a Pl Comd with 4 Inf Bn and, with the outbreak of terrorism in Northern Ireland, he soon found himself serving back in the W Comd area serving on the border. In Oct 1971 he deployed on UN service as Pl Comd, B Coy 21 Inf Gp until Apr 1972.
He later served in E Comd and at DFHQ in QMG's Br. He completed two years as an unarmed military observer with the United Nations Truce Supervision Organisation (UNTSO) in the Middle East in the mid 1980s. He was Coy Comd, A Coy, 66 Inf Bn UNIFIL in 1989 – 1990.
He was predeceased by his father, Michael and his sister Grainne; he was survived by his wife Jane, their two daughters Deirdre and Aoife, his mother Margaret, brothers, Hugh, Ciaran and John and his sister Mary.
His body was repatriated on Saturday 10 Sep and was taken to the Church of Our Lady and St David, Naas, Co Kildare. He was buried Sunday 11 Sep after Requiem Mass at St Corban's Cemetery, Naas.
Ar dheis Dé go raibh a anam dílis
Photo Credit: Military Archives.