By PRO IUNVA
In this article we remember the sacrifice of  Comdt Michael Nestor on the 40th anniversary of his death near Beirut in Sep 1982.
In 1982, Comdt Michael Ambrose Nestor was a military observer with the United Nations Truce Supervision Organization (UNTSO), based at Naqoura in South Lebanon and working with Observer Group Lebanon (OGL) in support of the United Nations Interim Force in Lebanon (UNIFIL). The Israeli Defence Forces (IDF) invaded Lebanon on 6 Jun 1982 and by 25 Jun they dominated the southern half of the country and they encircled Beirut. A Maronite Christian militia massacred hundreds of Palestinian men, women and children in the Sabra and Shatilla refugee camps.  
On 1 Aug 1982, the UN Security Council authorized the dispatch of additional observers to Beirut to Observer Group Beirut (OGB) in order to monitor the situation in and around Beirut.  Initially some forty UNTSO observers were redeployed to Beirut and on 21 Sep, two Irish officers, Comdt Michael Nestor and Comdt Patrick Freeman, were among those who were posted to OGB from OGL.  Another Irish officer, Comdt Michael Lynch, had been with OGB for some time.
On Saturday, 25 Sep, four observers were killed when their vehicle hit a mine in the village of Zua Dukhah approximately 15 Km east of Beirut near the Beirut to Damascus highway.  Those killed were Comdt Michael Nestor (36), Maj Randall Carlson (35) US Army, Maj Warren Harley (34) US Air Force and Capt Karl Lasonen Finnish army. 
Comdt Nestor's father, Comdt Ambrose Nestor, was a member of 16 Cadet Class and he was commissioned on 25 May 1944.  He was one of the first Irish peacekeepers and he served in Lebanon in 1958 with the United Nations Observation Group in Lebanon (UNOGIL); he served with HQ Coy 34 Inf Bn in the Congo in 1961 and at HQ UNFICYP in 1964 – 65.  He retired in 1975 and was living in Ballinlough, Cork.
Comdt Michael Nestor was born in Dublin, he was a member of 39 Cadet Class and he was commissioned on 26 Sep 1966.  He was killed one day short of the 16th anniversary of the date of his commissioning.  He was on his second tour of duty with the UN having served as a Pl Comd, 2 Pl, A Coy 13 Inf Gp UNFICYP in Cyprus in 1969 – 70.  His wife Catherine and their children Stephen (10), Susan (9) and Valerie (4) were living in Nahariya in north-west Israel at the time.  
During his home service he served in GTD, as an instructor in the Cadet Sch and later in the Sch of Admin; on promotion to Comdt he served in Gp 3 Stores Dep Ord in Clancy Bks and later as Coy Comd 5 Inf Bn.  Before deploying to the Middle East he was Asst Adjt HQ C Comd.
Because Beirut Airport was closed to traffic by the IDF, his body was repatriated from Ben Gurion Airport, Tel Aviv via Amsterdam on 30 Sep and it was taken to the Church Of the Sacred Heart, Arbour Hill.   
His Requiem Mass was celebrated on 1 Oct by Fr Hugh O'Reilly, a family friend and Fr Raymond Field CF.  President Patrick Hillery, An Taoiseach was represented by his ADC Comdt Christopher Leaney, Patrick Power, Minister for Defence, Lieut Gen Louis Hogan, COS, the General Staff,  Brig Gen Thomas Dunphy, GOC C Comd were among the congregation.  He was buried at Dean's Grange Cemetery.  The firing party was from 2 Mot Sqn and under the command of Lieut Mark Clinton.  
He was survived by his wife and children, his parents and three brothers Oliver, Declan and Colum.
Go dtuga Dia suaimhneas sioraí dó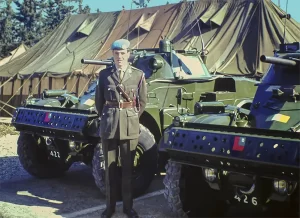 Photo:  Comdt Michael Nestor as a Lieut in Cyprus in 1970, credit Lieut Col Thomas Halligan (Retd) private collection.