By PRO IUNVA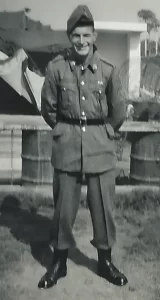 This article is on the death in Jul 1965 of Cpl William Hetherington, HQ Coy, 4 Inf Bn UNFICYP following injuries suffered in a road traffic accident.
William (Billy) Hetherington was born in Co Tipperary on 16 Jun 1937. Days after his 17th birthday, he enlisted in the army on 29 Jun 1954 at the Curragh Camp and he was trained in the GTD, McDonagh Bks. His address on enlistment was Dysartbeigh, Mountrath, Co Laois and his civilian occupation was shown as foundry worker. He served for an initial period of nine years; for eight years in Dep Cav, Plunkett Barracks until 25 Jun 1962 and later for one year with the Observer Corps, McKee Barracks in Dublin until 29 Jun 1963. During his service he completed a Potential NCO Course and he was promoted Cpl on 6 Dec 1956.
He served with C Coy, 34 Inf Bn of the UN Force in the Republic of the Congo [Opération des Nations Unies au Congo (ONUC)] from 1 Jan to 30 Jun 1961. He left the DF in Jun 1963 and worked for a short time in the UK. He re-enlisted on 8 Oct 1964 and he served as an instructor in the CTD (E), at Cathal Brugha Barracks, Rathmines, Dublin 6. He deployed with HQ Coy, 4 Inf Gp of the United Nations Force in Cyprus (UNFICYP) on 18 Jan 1965.
On 21 Jun 1965, Cpl Hetherington was travelling as a passenger in a Land Rover on the Dhekelia to Famagusta road. The vehicle went out of control on a right-hand bend, left the road and fell two metres into an orange grove where it caught fire. The occupants were trapped in the up-side-down vehicle and two British NCOs, WO JT Mitchell and Cpl Kelly, from the Sovereign Base at Slim Bks, Dhekelia came on the scene. The Land Rover was blazing furiously but the British personnel managed to pull the driver free and dragged him clear. As they turned to go back to the vehicle, the Land Rover exploded blowing Cpl Hetherington free but all of his clothing was soaked in petrol and it was ablaze. The two British NCOs risked their lives in the rescue and some months later they were both awarded the Queen's Commendation for their heroism.
Cpl Hetherington and the driver were evacuated to the British Military Hospital in Dhekelia Sovereign Base. The driver's burns were serious and it was assessed that he would require skilled treatment for a long time. Cpl Hetherington had suffered 80% burns and the medical staff expressed the view that he could not possibly survive more than nine days. On 30 Jun, the two men were transferred to hospital at RAF Akrotiri and then it was decided to transfer both casualties to the RAF Hospital in Halton, Wendover, Buckinghamshire UK on 2 Jul where they were under the care of Air Vice Marshall George Henry Morley, the world renowned burns specialist. Despite his horrific injuries, Cpl Hetherington amazed the hospital staff with his grit and spirit as he hung onto life with great tenacity.
At 1900 hours on 19 Jul 1965, Cpl Hetherington lost his fight for life. His remains were flown home to Baldonnel Aerodrome Co Dublin by the Air Corps on Thursday 22 Jul. On Friday 23 Jul, after Requiem Mass celebrated by Fr Phelim McCabe CF in the Garrison Church Baldonnel, he was taken to Mountrath where he was laid to rest. Prayers at the grave were recited by Fr McCabe CF who was assisted by Very Rev M O'Connor PP Mountrath and Fr E Kerrigan CC. The attendance included Comdt Jack O'Brien representing Seán Lemass TD, An Taoiseach, Michael Hilliard, Minister for Defence, Maj Gen Sean Collins-Powell AG, Col E Shortall representing the COS.
By this time 4 Inf Gp had completed its tour of duty and many of his comrades attended the funeral.
The driver required specialist treatment including plastic surgery for his injuries at St Mary's RAF Hospital, Aylesbury in Buckinghamshire. He was discharged from hospital on 29 Jan 1966, more than seven months after the accident. He had further treatment at the General Military Hospital in the Curragh and a final check at Halton in Oct 1966.
Post 27 Portlaoise organised a special mass to mark the 50th anniversary of his death and it was celebrated in St Fintan's parish church in Mountrath, Co Laois on Saturday 18th Jul 2015 at 1900 hours. The Hetherington family and former comrades who served with Cpl Hetherington overseas with 4 Inf Gp UNFICYP and 34 Inf Bn ONUC and at home in Plunkett Bks, McKee Bks and Cathal Brugha Bks to attended the anniversary mass.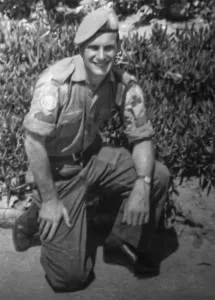 Fifty seven years after his death, we remember this brave peacekeeper. Suaimhneas sioraí dá anam.
Photo: Cpl William Hetherington while serving with 34 Inf Bn in 1961, Credit:  Hetherington family private collection.