From PRO IUNVA
On Tuesday 10 Feb 1981, Acting Coy Sgt James Martin, died in Israel while was serving with UNIFIL MP Coy at Naqoura, at the time, he was a member of  3 Irish Component UNIFIL HQ. 
He enlisted in the DF in 1964 and he was on his fifth tour of overseas duty.  He served with the United Nations Peacekeeping Force in Cyprus (UNFICYP) from Apr to Oct in 1966 with A Coy, 6 Inf Gp as a Pte Cook, the unit was based in Lefka District with positions in Xeros, Limnitis, Lefka, Kato Pyrgos and Kokkina Enclave.  His home unit was then CTD (W).  His second tour to UNFICYP was as a military police Cpl with UN MP Coy attached to 11 Inf Gp from Sep 1968 to Mar 1969 when he was based at Nicosia.  He served with the Second United Nations Emergency Force (UNEF II) in the Sinai Peninsula in 1974 with 26 Inf Gp at Camp Benburb at Negela. On 5 May 1974, 26 Inf Gp took over operational control from 25 Inf Gp.  The Gp was withdrawn from the Sinai following the Dublin – Monaghan Bombings on 17 May 1974.  He served with UNIFIL MP Coy with 1 Irish Component from Oct 1979 to May 1980 when he was based in Beirut at UNIFIL House.
On 10 Feb 1981, he was travelling with another Irish soldier to the UNIFIL MP Detachment base at Herzliya, north of Tel Aviv when he suffered a heart attack. He was taken to Rambam Hospital in Haifa, Israel but he was pronounced dead on arrival.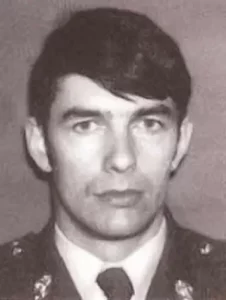 He was survived by his wife, Catherine and four children, three boys and one girl, aged from two to fifteen years of age.  His home unit was 4 Grn MP Coy, Custume Barracks, Athlone, Co Westmeath.  He was a native of Drumraney, Athlone and he lived in the town at Auburn Heights.  He is buried in Coosan Cemetery, Athlone.
The UNIFIL MP Coy installation at Naqoura was named Camp Martin in his honour.
Ar dheis Dé go raibh a anam dílis.