By PRO IUNVA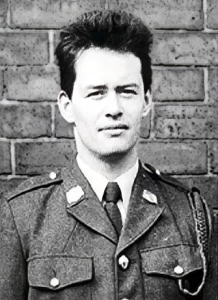 Trooper Paul Fogarty was born in the Families' Hospital, part of the General Military Hospital in the Curragh Training Camp in 1963. His mother was Ella Fogarty, née Hogan from Feakle Co Clare and his father, John Fogarty, was BQMS at the AAS in Naas. He was the second youngest of seven children. The family had strong tradition of service in the DF, his father had served in Congo with 36 Inf Bn and in Cyprus with 20 Inf Gp, Paul's uncle, Frank Fogarty was a CQMS in 3 Inf Bn and he had also served in Congo with 32 Inf Bn and 35 Inf Bn. Paul's brothers Sean was a Sgt in 1 Tank Sqn (he was also serving with 59 Inf Bn), Martin was a Pte in 3 Inf Bn.
Paul went to school in the Boys National School in the Curragh and completed his secondary education at the Post Primary School. He joined the DF in Nov 1980 and he was assigned to the newly re-established 1 Tk Sqn at Plunkett Bks.
He deployed to Lebanon in May 1986 as a Tpr with 59 Inf Bn. On Sunday, 20 Jul 1986, he was driving a Panhard M3 VTT APC when it struck a boulder near Haddatha village and overturned. The other crew members, Sgt Patrick (Poncho) Dowling and Lt Martin Doyle suffered bruising and shock and they were evacuated to SwedMedCoy field hospital at Naqoura.
Tpr Fogarty was single, aged 23 and he lived at Devoy Tce, Naas. His body was removed to St Brigid's Church in the Curragh on Thursday 24 Jul. Requiem Mass was celebrated on Friday and he was buried at St Conleth's Cemetery, Newbridge. President Patrick Hillery was represented by his ADC Comdt Nicholas O'Connor, the Taoiseach was represented by his ADC, Comdt Diarmuid Ó Mordha, the government was represented by Fergus O'Brien TD, Junior Minister for Defence. Military mourners were led by Lieut Gen Tadgh O'Neill COS and Brig Gen Charles McGuinn GOC C Comd. Tpr Fogarty's parent unit, 1 Tk Sqn, provided the firing party.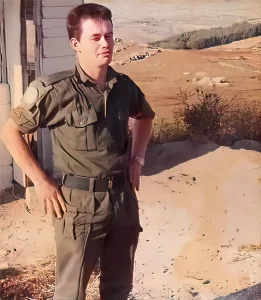 I measc na naomh go raibh sé.
Photo Credit: the Glengarry Club