By PRO IUNVA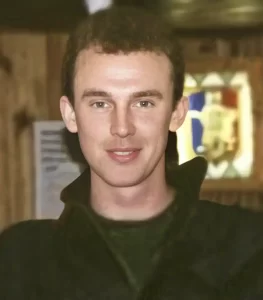 The death of Ireland's only casualty in the high risk and dangerous peace support operation in Liberia is covered in this article.
Sgt Derek (Derec) Mooney (33) was born in Dublin on 21 Mar 1970 and he joined the DF in 1987.  On 19 Nov 2003 he deployed as a member of the Irish Special Ops Task Gp with the UN Mission in Liberia (UNMIL).  At approximately 1620 hours local time on Thursday 27 Nov 2003 he was fatally injured in a road traffic accident in the vicinity of the Firestone Plantations Company at Robertsfield Highway and he died some hours later during surgery on the Dutch medical ship, HNLMS Rotterdam, moored off Monrovia.  Two other Irish ARW personnel were injured in the accident, Sgt Seán Baldwin, was critically injured and after repatriation to the Mater Hospital in Dublin, he required intensive treatment and surgeries over a long period before he could return to duty.  A third colleague received minor injuries and he was able to return to duty on the following day.
The accident happened about 65 Km southeast of Monrovia the capital of Liberia.
Sgt Mooney had previously served with A Coy 69 Inf Bn UNIFIL in 1991, in East Timor in with INTERFET during 1999 – 2000 and in Honduras. 
He was from Blackrock, Co Dublin.
His remains were repatriated to Casement Aerodrome Baldonnel on Sunday 30 Nov and his funeral mass was at St John the Baptist Church, Blackrock on Tuesday 2 Dec.  Monsignor John Crowley HCF was the chief celebrant. The chief mourners at his funeral mass were his parents Austin and Teresa Mooney, his brothers Adrian, John and Philip, and his fiancée Denise. 
 President Mary McAleese and her husband Dr Martin McAleese attended the funeral.  An Taoiseach, Bertie Ahern was represented by his ADC, Comdt Michael Murray.  Also in attendance were Minister for Defence, Michael Smith, the Dutch ambassador, Jacobus Van Der Velden, COS Lt Gen Colm Mangan, the Garda Commissioner, Noel Conroy and a huge number of serving and retired DF personnel.
Burial was at Shanganagh Cemetery after the funeral mass.
Ar dheis lámh Dé go raibh a anam dílis.
Photo Credit:   private collection.