From PRO IUNVA
Fifty seven years ago, the DF suffered the first of nine deaths in Cyprus when, on 22 Feb 1965, A/Coy Sgt Wallace J Macauley (39), MP Sec, HQ Coy, 41 Inf Bn UNFICYP, died at the Austrian Field Hospital in Nicosia following a heart attack. He was from Ferns Co Wexford. He was married with four children and the family lived at Pearse Bks, Curragh Training Camp. He enlisted in the PDF in 1946 and he had previous UN service as a military policeman with HQ Coy 35 Inf Bn from Jun to Dec 1961 and with HQ Coy 37 Inf Bn from May to Nov 1962 in the Congo.
Lt Tom Joyce escorted the coffin home.

Solemn Requiem Mass was celebrated and the St Brigid's Church, The Curragh Camp by Rev Fr H Aughney CF and he was buried at Hugginstown Cemetery, Knocktopher, Co Kilkenny. An Taoiseach was represented by Comdt T O'Neill, the Minister for Defence was represented by Comdt P Reid, Col John O'Donovan represented the COS, the attendance also included Col James Cogan OC CTC and Lt Col D Ó Briain represented D MP Corps.
Wallace Macauley's son, Desmond, followed in his father's footsteps and he served in 3 Inf Bn.
Ar dheis Dé go raibh a anam dílis.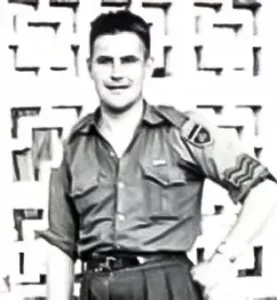 Photo Coy Sgt Macauley, credit family photo.