by PRO IUNVA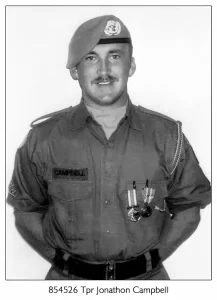 On Sunday 5 Sep 1999 Tpr Jonathan Campbell (29), Battalion Mobile Reserve (BMR), 85 Inf Bn was
killed in a motorcycle accident in Beirut while he was staying overnight before travelling on to Cyprus
on leave on the following day. He was from Corneddan, Ballinalee, Co Longford, his parent unit was 4
Cav Sqn, Connolly Bks Longford and he had nine years service in the DF. During his nine years of
service he gave magnificent service as a peacekeeper.
He had completed five previous tours of duty with UNIFIL having served with 75 Inf Bn (May – Oct
1994), HQ Coy, 77 Inf Bn May – Oct 1995, 79 Inf Bn May – Oct 1996, 36 Ircomp (Apr – Oct 1997)
UNIFIL HQ and BMR, 84 Inf Bn (Nov 1998 – Apr 1999) – he extended his service and continued with
85 Inf Bn.
His grandmother, Mrs Bridget Campbell, had died on the previous Friday and when one of the younger
family members saw the army vehicle arriving at the home they thought Jonathan had returned
unexpectedly for her funeral. When his mother, Mrs Peggy Campbell saw the Sqn Comd, 4 Cav Sqn in
full uniform, she knew it was going to be appalling news.
His body was repatriated by Air Corps Casa CN 235 Maritime Patrol Aircraft from London on Thursday
9 Sep following an autopsy in Tel Aviv. He was taken to St Bricins Military Hospital and was then
taken to the family home in Co Longford. He was an avid motorcyclist and the cortege was escorted
from the hospital to his home by his biker friends. The wake in Corneddan was attended by his unit
comrades and they kept vigil with the family at the coffin throughout the night. The funeral mass was
held at St Mary's Church, Killoe, Ennybegs, Co Longford on Saturday 11 Sep and Fr Sean Casey PP was
assisted by DF chaplains. Brig Gen John Martin, GOC W Comd led the military mourners.
Tpr Jonathan Campbell was laid to rest in Aughaboy Cemetery, Drumlish with full military honours.
On 8 Sep, the UN Secretary General, Kofi Annan wrote to Richard Ryan, the Permanent
Representative of Ireland to the United Nations New York and asked him to convey to the
Campbell family and to the Irish government his heartfelt condolences on the death of Tpr
Campbell as well as his recognition of the services rendered by him to efforts of the United
Nations for peace in Lebanon.
He was survived by his parents Pat and Peggy, his brothers Darren, Glen and Paul, his sisters Caroline,
Laura and Patricia, his grandparents Michael and Kathleen Quinn, relatives, friends and his comrades in
the DF. His brother Paul, the youngest son, served in 4 Cav Sqn and later in 6 Inf Bn.
Go dtuga Dia suaimhneas sioraí dá anam.
Photo caption.
Tpr Jonathan Campbell, credit Cavalry Club.