by PRO IUNVA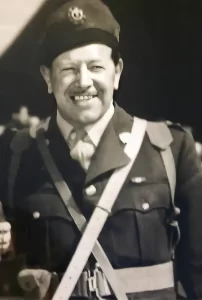 In this article, we remember Comdt Thomas Malachy McMahon (47) who died from natural causes while serving on his third tour of UN duty in the Congo in Sep 1963.
Comdt Thomas Malachy McMahon was born in Rosses Point Co Sligo in Jul 1916 and he was educated at Summerhill College, Castleknock College and University College Dublin. He served as a reservist in the Volunteer Force from 31 Jan 1938 until 4 Jul 1939 with the
UCD Coy of the Regiment of Pearse while studying law. He qualified as a solicitor in Oct 1939 and worked as an apprentice solicitor in Ballymote Co Sligo. He rejoined DF during the Emergency and on completion of a potential officers course on 21 Feb 1942 he was appointed as a Temporary 2/Lt initially in Cav Dep and later with 3 Armd Sqn at Rinneanna Airport (later Shannon Airport) from 1942 to 1944. In Dec 1944 he was posted as Assistant Legal Officer HQ 1 Div and he was later Assistant Legal Officer HQ W Comd. In Nov 1946 he was appointed to the Permanent Force. On promotion to the rank of Comdt in 1949, he was appointed as Legal Officer HQ W Comd. He lived with his family at Beechpark in Athlone.
He was posted as Legal Officer 33 Inf Bn ONUC on 10 Aug 1960. During the search for the remains of the late Tpr Anthony Browne after the Niemba Ambush, he commanded the military party that occupied the village at Niemba. He returned to the Congo in 1962 as Acting Judge Advocate  General at the Force HQ in Leopoldville. In Nov 1962, along with three other Irish officers, he was involved in the recovery of the remains of Tpr Anthony
Browne (Military Medal for Gallantry with Distinction). He was posted as Legal Officer 39 Inf Bn on 22 Apr 1963 and he was appointed as the Force Judge Advocate General at HQ ONUC on 17 Jun. He died suddenly in his sleep on 28 Sep 1963 at Leopoldville from myocardial infraction aged 47 years.
His remains were due to be repatriated with the rotation home of the ninety three personnel from 3 Armd Car Sqn from Leopoldville on 11 Oct but, ninety minutes into the flight, the Sabena Boeing aircraft developed engine trouble and had to turn back to Leopoldville. The flight took off at 1130 hours on Tuesday 15 Oct and, after refuelling at Brussels Airport, landed at Dublin at 2235 hours. The coffin was removed to the Church of the Sacred Heart Arbour Hill where it was received by Fr Matthew Burke SM who was an uncle of Comdt McMahon. Fr Burke celebrated funeral mass on Wednesday 16 Oct and he was laid to rest in the Congo Plot at Glasnevin Cemetery where prayers were recited by V Rev Fr P Duffy HCF assisted by Fr P Collins CF Custume Bks, Fr J Clarke CF Gormanston Camp, Fr J Fagan CF Collins Bks and Fr P McCabe CF Cathal Brugha Bks. The funeral attendance included Gerald Bartley, Minister for Defence, Lt Gen Sean MacEoin COS, Col PJ Hally OC E Comd, Col H Byrne OC W Comd, Col P Curran QMG, An tUachtaráin and An Taoiseach were represented by their ADCs. The chief mourners were Comdt McMahon's widow, Patricia, their six children Derek, Barry, Pamela, Brian, Christopher and Cormac.
I measc na naomh go raibh sé.
Photo Credit: Military Archives.