by PRO IUNVA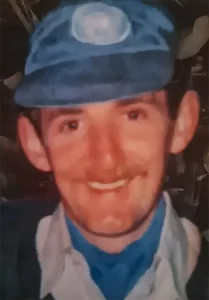 In this article we remember Cpl George Bolger who died in a Haifa hospital on 29 Aug1987.

On Saturday, 29 Aug 1987, Cpl George William (Billy) Bolger (34), B Coy, 61 Inf Bn UNIFIL, died at Ram Bam Hospital in Haifa, Israel around 0230 hours from a suspected heart attack. He had been evacuated on the previous day from Kirbat Silm to the RAP at Tibnine, he was then taken by ItalAir Helicopter, first to SwedMedCoy at Naqoura and then to Haifa after he suffered a suspected brain hemorrhage.
He was a son of Toddy and Maureen Bolger from Lower Sarsfield St, Nenagh, Co. Tipperary. He was born on 9 Jan 1953 and was one of four children; he had one brother, Tom and two sisters, Anne and Marie (RIP). He was educated at St Mary's Boys National School, the CBS and the Vocational School Nenagh. He served with A Coy, 14 Inf Bn FCA in the early 1970s. After school he worked as a cutter for Silverline Fashions and later for Suede of Ireland.
When these businesses closed, he joined the DF and he completed recruit training in Kickham Bks, Clonmel. He was assigned to 12 Inf Bn Sarsfield Bks, Limerick where he was Coy Clerk, HQ Coy.
He had previously served in Lebanon with B Coy, 48 Inf Bn from Nov 1980 to Apr 1981. After that tour of duty, he met his wife, Ester and they were married in 1983. They lived with their one and a half year old son, Paul, at Rathjordan, Herbertstown, Co Limerick. From his teens he loved soccer and he played up to his death and he was an avid Manchester United fan.
His remains were brought home on Tuesday, 1 Sep and were brought to the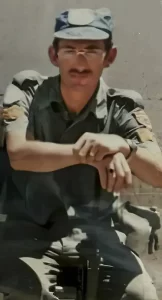 Garrison Church, Sarsfield Bks where mass was offered on Wednesday. He was taken to St Mary of the Rosary Church, Nenagh for mass and then to Caherline Church. Requiem Mass was celebrated on Thursday 3 Sep at 1200 and he was buried at Caherclonish Cemetery.
Billy was baptized as George William and he was named after his grandfather who, like Billy trained in Clonmel when the barracks was named Victoria Bks and it was the Depot for the Royal Irish Regt. Pte George Bolger, 5 Bn RIR died on 20 Sep 1916 in Salonika during WW1 and he is buried at Struma Military Cemetery, Greece. He was a son of William and Winifred Bolger, Nenagh; husband of Ellen Bolger, of Birr Rd, Nenagh, Co. Tipperary.
Billy Bolger and his grandfather were both 34 years of age when they died.
Ar dheis lámh Dé go raibh a anam dhílis.

Photo Credits:  the Bolger Family private collection.