By PRO IUNVA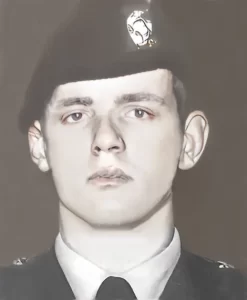 On 25 Nov 1980, Pte John Marshall (20), 48 Inf Bn was admitted to SwedMedCoy in Naqoura suffering from tonsillitis.  Complications set in and he was transferred to Ram Bam Hospital in Haifa but he died there around midday on 17 Dec 1980.
He was from Glin Ave, Coolock, Dublin and he joined the DF in Jul 1977, his parent unit was 6 Fd S&T Coy in the Currgh.  He was on his first tour of overseas duty, he was the ninth member of the DF to die while serving with UNIFIL.
His body was flown home on 21 Dec and his coffin was brought to the Church of St Joseph the Worker, Coolock.  After the funeral mass at 1000 hours on 22 Dec, he was buried in St Fintan's Cemetery, Sutton.
Lt Gen Carl O'Sullivan COS and Maj Gen William Callaghan AG attended the funeral, An Taoiseach was represented by his ADC, Comdt Christopher Leaney.
He was survived by his mother, Florence Marshall, his sister Mrs Dolores Mulhall and his grandmother, Mrs Harte, his father had passed away a few months earlier.
I measc na naomh go raibh sé.