By PRO IUNVA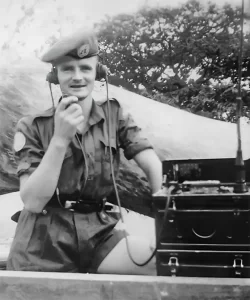 This article recalls the death of the thirteenth Irish casualty during the United Nations Operation in the Congo (ONUC).
Cpl Liam Kelly (22) was from Ballydonnell, Thomastown, Co Kilkenny.  He joined the DF at the Curragh Training Camp in Jul 1958 and on completion of recruit training he passed out as the best soldier in the platoon.  He was assigned to 3 Inf Bn at Connolly Bks, Curragh Camp. In Aug 1960 he deployed to ONUC with C Coy 33 Inf Bn. 
He was on guard duty on the night 23 – 24 Dec in Quartier Kakomba, Albertville, Republic the Congo when, shortly after midnight, he was shot dead in the guard room by a single shot accidently discharged by a comrade soldier. 
His remains were flown home on Wednesday 4 Jan 1961 and were taken the Military Church of the Sacred Heart Arbour Hill; a motorcycle escort of honour from 2 Mot Sqn led the cortege. 
Requiem Mass was celebrated on Friday 6 Jan 1961 by the Acting HCF, Fr Patrick Duffy, he was assisted by Fr Phelim McCabe CF and Fr T J Fagan CF.  The attendance included An tUachtaráin, Eamon de Valera, the Minister for Defence, Kevin Boland, COS Maj Gen Seán Collins-Powell, AG Col P J Hally, ACOS Col James Flynn, OC E Comd Col R J Callanan, OC CTC Col William Donagh, Lt Col Cornelius Burke OC 3 Inf Bn, Right Rev Mons Drea, VG PP Thomastown, Fr J Brady CC Thomastown, Capt John O'Brien represented An Taoiseach, Seán Lemass.  He was buried in Glasnevin Cemetery alongside his comrades who were killed in the Niemba Ambush.  His parent unit provided the pall bearers and they were: Cpls John Beehan, John Switzer, Walter Tobin, Thomas Moore, Michael Dowling, James McLaurence, Benjamin Williams, James Maher, Daniel O'Rourke and John Mackey.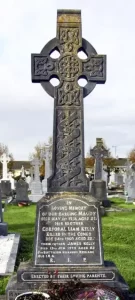 The escort, under the command of Lt Peter Feely and the firing party under Sgt Michael Whelan, were from CTD (E).
The chief mourners were Cpl Kelly's parents Mr and Mrs James Kelly, his brothers Patrick, Michael and Seamus and his sisters Bernadette and Maureen.  His father James had served with 5 Bn Kilkenny Bde of the old IRA during the War of Independence.  Liam's brother, Paddy, was a Kilkenny senior hurler.
Cpl Kelly was a talented athlete and a member of Thomastown Athletic Club.  All athletic fixtures in the county were postponed as a mark of respect.
I measc na naomh go raibh sé.
Photo Credits: Kelly Family Collection