by PRO IUNVA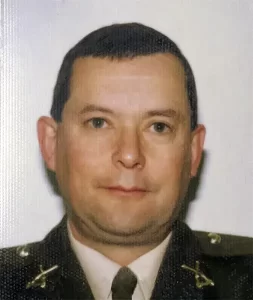 Comdt John Patrick (Shane) McMahon (Retd), was born in Dublin in Nov 1953. He joined the DF as a Cadet with 47 Cdt Class on 6 Apr 1972; he had been a student at UCD in first year arts when he was awarded a cadetship. On commissioning in Sep 1973, he was assigned to 1 Inf Bn, he later served in 28 Inf Bn and 18 Inf Bn FCA before he was posted to E Comd to Dep Ord. He served in DFHQ and was a Coy Comd in 2 Inf Bn.

He served overseas first in UNIFIL in 1982, later as Asst QM, 63 Inf Bn in 1988 and as OC A Coy 79 Inf Bn in 1996. He served for two years with UNTSO in Israel and Syria in 1990 – 91, he was an unarmed military observer in Western Sahara with MINURSO in 1998 and he served in Bosnia and Herzegovina at SFOR HQ and later with EUFOR BiH HQ in 2004 and 2005.
When he retired from the DF on 8 Dec 2007, he returned to Sarajevo as a civilian analyst at Information and Analysis Div, EUFOR BiH HQ and while serving in this appointment he died from a heart attack on 22 Jul 2013. He was removed to the Church of the Sacred Heart, Arbour Hill on Monday 5 Aug. Requiem Mass was celebrated by Fr David Tyndall CF Cathal Brugha Bks on Tuesday 6 Aug and he was buried in Glasnevin Cemetery.
The chief mourners were his wife, Olive, his sons Rory and Dara, his daughter Aisling, brother David, sisters Anne and Mona.
Ar dheis lámh Dé go raibh a anam dhílis.
Comdt Shane McMahon photographed at Butmir Camp, Sarajevo in Mar 2005.
Photo Credits: Mil Archives