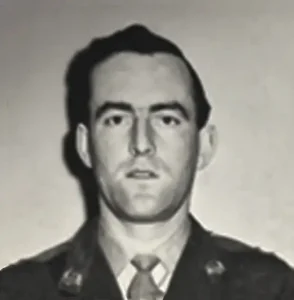 Capt Christopher McNamara was from Crusheen, Co Clare and he joined the Defence Forces as a Cadet with 29 Cadet Class in 1954.  He was commissioned on 25 Nov 1956 and appointed to the Supply and Transport Corps.  He was appointted to Depot S&T Corps in the Curragh Training Camp and then he served in 2 Grn S&T Coy.   He deployed to Cyprus as Transport Pl Comd with the 9 Inf Gp UNFICYP on 11 Sep 1967.
The Group was initially deployed in the Lefka District and then were redeployed to Xeros on 29 Jan 1968.


On the 16 Jan 1968 he died at Xeros Camp from a brain haemorrhage.  He was the fifth of nine members of the Defence Forces who died while serving with UNFICYP.
He lived at Granville Terrace, Rochestown Avenue, Dun Laoghaire, Co Dublin.
He was survived by his wife, Marie, his son Shane then aged two and a half and his daughter Sinéad aged one year.  His body was repatriated on 18 Jan and after requiem mass on 19 Jan at the Church of the Sacred Heart, Arbour Hill, he was laid to rest in the UN Plot at Glasnevin Cemetery.