By PRO IUNVA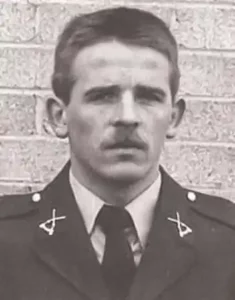 On Friday 24 Feb 1989, Pte Michael Mc Neela (21), A Coy, 64 Inf Bn was shot dead when he was hit in the chest by a 12.7 mm round that was fired by a member of the De Facto Forces, the so-called South Lebanon Army. He was on checkpoint duty at Post 6-38A, in Haddathah village. The firing came from the De Facto Forces compound called DFF 17. Haddathah village and surrounding area was dominated by this compound and DFF 20A at Bayt Yahun. There was no armed activity in the area at the time.
Pte McNeela was the eight Irish member of the DF to die as a result of hostile action while serving with UNIFIL.
An Tanaiste, Brian Lenihan, summoned the Israeli Chargé d'Affaires to the Department of Foreign Affairs to convey the government's strong protest and grave concern at the killing of Pte McNeela. At the meeting it was put in the strongest possible terms that the so-called "South Lebanon Army" was armed, financed and trained by Israel. 

At UN HQ in New York, Marrack Goulding, the Under Secretary General with responsibility for Special Political Affairs, on behalf of the Secretary General, called in the Israeli Chargé D'Affaires on the same day to lodge a vigorous protest about the killing of Pte McNeela.
The UN Secretary General, Javier Perez de Cuellar, who was in Japan for the Emperor Hirohito's state funeral, sent a message to the government and asked that his condolences be passed to the McNeela family.
In March the Department of Foreign Affairs was informed by the Israelis that as a result of an investigation carried out by the so-called "South Lebanon Army" a member of that force has been detained and that the unit at Haddathah Compound has been removed from there and dispersed to other units of that force.
Michael McNeela was born on 24 Jul 1967, he was the only son of John and Kathleen McNeela and he grew up on Lisdoo Road, Dundalk with three sisters, Julie, Fiona and Eileen. He joined the Amy on 10 Nov 1986; his parent unit was 27 Inf Bn. He was on his second tour of duty with UNIFIL, having served previously with 61 Inf Bn from Apr to Nov 1987.
On 28 Feb, Capt Peter Murphy, A Coy 64 Inf Bn, escorted the remains home via Tel Aviv, London Heathrow and Dublin Airport to the family home in Dundalk.
His funeral mass was held on 1 Apr in St Patrick's Cathedral Dundalk with Cardinal Tomás Ó Fiaich, Most Rev Michael Smith Co-Adjutor Bishop of Meath, Monsignor Edward Dunne HCF, Fr Kevin Cooney CF, a number of DF chaplains and Very Rev Sean McCartan, Administrator St Patrick's concelebrating the mass.
Cardinal Ó Fiaich said "Private McNeela was part of an Irish peace keeping force that was prepared to go on the most dangerous and demanding missions and had made a notable contribution to keep the peace in various parts of the world. Wherever Irish soldiers go abroad, they do not go to make war, but strive for the restoration of peace. They have for several years, made a very notable contribution to international peacekeeping forces. The people of Ireland are very proud of their contribution even though their journey abroad sometimes presents great grief and sadness".
Hundreds of townspeople lined the streets as the coffin on an open gun carriage with the Army Number One Band and a colour party leading the cortege. He was buried in St Patrick's Cemetery.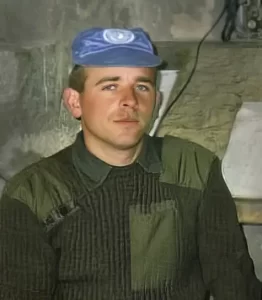 Ar dheis Dé go raibh a anam dílis agus comhbhrón le teaghlach Michael.
Photo Pte Michael McNeela, credit Military Archives Section & Private Collection.