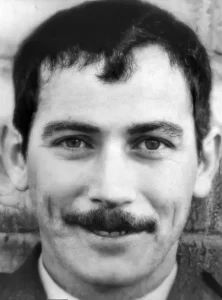 At 2020 hours on Sunday 21 Aug 1988 Pte Patrick Wright (26), A Coy 63 Inf Bn UNIFIL suffered a gunshot wound to the stomach when one round was accidently discharged from a FN 7.62 mm rifle at Haddatha village.   He was evacuated to the Regimental Aid Post at Tibnine but he was dead on arrival. He joined the DF in 1981; his parent unit was 27 Inf Bn Aiken Bks Dundalk and he was on his second tour of duty in Lebanon having served with 55 Inf Bn in 1984.  
He was single and from Dawson's Demesne, Ardee, Co Louth.  He was predeceased by his parents William and Philomena and he was survived by his brothers Anthony, Philip and Martin, his sisters Mary, Rose, Brigid and Catriona. 
His body was repatriated on Wednesday 24 Aug to Dublin Airport and taken to the Curch of the Nativity of Our Lady in Ardee.  The Requiem Funeral mass was celebrated on Thursday 25 Aug and he was buried at Ballapousta Catholic Churchyard, Ardee.
 Go dtuga Dia suaimhneas sioraí dó.
Photo Ccredit:  Mil Archives.