By PRO IUNVA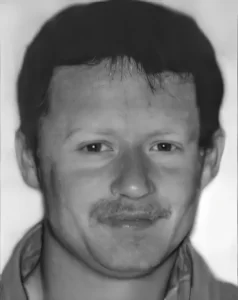 In this article we remember the death of Sgt John Lynch, 36 Ircomp UNIFIL HQ, who was killed when an Italair Agusta-Bell 205 helicopter (UN 281) crashed on the night of Wednesday 6 Aug 1997 in South Lebanon.  Four Italian personnel also perished in the crash.  Sgt Lynch was on his fourth tour of duty with UNIFIL he served previously with 59 Inf Bn, 65 Inf Bn and for one year with 29 and 30 Ircomps.  He was working as an IT specialist at UNIFIL Ops at Naqoura at the time.  The helicopter was crewed by three members of Italair, a fourth Italian and Sgt Lynch were observers during a night flying training exercise in the Irish Battalion area of opertions.  The helicopter had hovered one meter over the landing area at At Tiri position 6-44 and was flying to Hill 880 position 6-41 when it crashed into a wadi at 2117 hours local time.  Personnel from B Coy 81 Inf Bn commanded by Comdt Joe Buckley and a medical team under Comdt Alan Woolhead rushed to assist but the five men were pronounced dead at the scene.  Battalion personnel recovered the bodies to SwedMedCoy at Naqoura and, on 7 Aug, they were brought to the Greenberg Institute at Tel Aviv for autopsies.  The Italair peacekeepers were Capt Antonio Sgro (37), pilot, Capt Giuseppe Parisi (33), co-pilot, WO Massimo Gatti (35), aircraft technician and Sgt Daniel Forner (35).  UN Secretary-General Kofi Annan expressed his condolences to the families of the victims through the Irish and Italian governments.  Italair took over from Norair in Jul 1979 as UNIFIL's helicopter wing.
Sgt Lynch's body was flown to Baldonnel Aerodrome on Sunday 10 Aug and removal was to Cill Mhuire Church, Ballymany, Newbridge, Co Kildare.  Comdt Michael O'Sullivan escorted the coffin home.  Requiem Mass was celebrated on Monday at 1100 hours by  the bishop of Kildare and Leighlin, Dr Laurence Ryan, he was assisted by Fr Tom Lalor CC, DF Chaplains and local clergy.  The President, Mary Robinson, the Defence Minister David Andrews, the Italian Ambassador Ferdinando Zezza and Capt Maurice McQuillan ADC to An Taoiseach attended, the military mourners were led by Lt Gen Gerry McMahon COS.  
Rosario Lynch spoke at the mass and she said no words of hers could express her love for John.  She described him as not jut her partner but her best friend, she said that John was dedicated to bringing peace and harmony and to serving his country.  Their daughter, Christina (11), sang the hymn 'Shalom' as a tribute to her father.  The chief mourners also included their son, Scott (9), John's parents John, who had retired one year earlier as BSM in Mil Col, and his mother Marie, his brother Alan, who was serving in  1 Armd Car Sqn, his brother-in-law Pte Peter Kennedy who was serving with 81 Inf Bn, by his sisters Maria, Gabrielle and Aileen.  The bearer party was from Dep MPC, 3 Inf Bn provided the firing party and personnel from HQ C Comd were pall bearers.  Three Italair personnel attended the funeral as personal friends of Sgt Lynch, Capt Luca Fagherzzi, Lt Massimo Bandini and WO Guisseppe Caverretta.
Sgt John Lynch had served in the DF for sixteen years and his parent unit was HQ C Comd.  
In 2017, twenty years after the crash, Maj Gen Michal Beary, UNIFIL FC, Sector West Comd Brig Gen Francesco Olla along with the Lebanese Armed Forces, representatives of the local communities and other contingents laid wreaths at a memorial to the crash victim near At Tiri.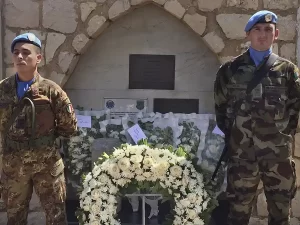 In Jul 2019, Mrs Rosario Lynch and her sister, Mrs Teresa Kennedy, visited Lebanon to mark the 40th anniversary of Italair in 1979 and to lay a wreath at the Irish memorial at Tibnine.   
Photos Captions:
Sgt John Lynch.  Credit: Mil Archives.
The memorial to the crash victims near At Tiri in 2017.  Credit: UN Multimedia.