by PRO IUNVA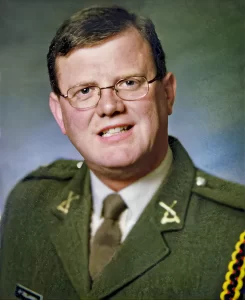 This article recalls the untimely death from natural causes of Lieut Col Paul R, Delaney who died in Jul 2007.  He was born into a family with a strong tradition of service in the DF.  His father was the late COS, Maj Gen Patrick Joseph Delaney; Gen Delaney commanded 38 Inf Bn in the Congo in 1962 – 63 and 42 Inf Bn in Cyprus in 1965.  Gen Delaney was appointed as COS on 1 Apr 1971 and sadly he died in service of natural causes four months later.  A brother of Gen Delaney (and uncle of Lt Col Delaney), Comdt Michael Delaney, served in S Comd as Comd QM.  Two of Paul's older brothers, PJ and Michael served as Comdts.  
Paul Delaney joined the DF as a Cadet with 52 Cdt Class in 1975 and he was commissioned in Dec 1976.  He served in W Comd as a junior officer in 6 Inf Bn, CTD (W), 17 Inf Bn FCA, HQ W Comd, HQ 4 Bde and in 4 Grn MP Coy.  On promotion to Comdt in 1998 he was posted as Coy Comd B Coy, 28 Inf Bn in Letterkenny.  He returned to Athlone as OC BTC followed by a period in Galway as SO Ops in HQ 4 Bde RDF and then in Dublin in 2005 as SO in Ops Sec DFHQ.  
His first overseas appointment was as Pl Comd, C Coy, 47 Inf Bn in 1980.  He served as MP Offr, 53 Inf Bn in 1983, his brother, Michael, was Asst QM with the unit.  He served in HQ Coy 69 Inf Bn in 1991.  He served in Zagreb in the Balkans with UNPROFOR during 1994 – 95 as Personal Staff Officer to Yasushi Akashi (Japan) who was the Special Representative of the UN Secretary General in the Balkans.  His brother Comdt PJ Delaney was also in Sarajevo at the same time.  
In 2007 he was serving at Ledningsregementet Bks in Enköping in Sweden with the Swedish led Nordic Battle Group (NBG) as the Chief of J5 Operational Planning. The NBG consisted of 2,600 personnel from Ireland, Sweden, Norway, Finland and Estonia.
On Monday 23 Jul 2007, Lieut Col Delaney and his family were holidaying in France when he collapsed and died while jogging.  His body was repatriated from France by the Air Corps.    
On Friday 27 Jul, his coffin was removed to the Church of Saints Peter and Paul in Athlone and his Requiem Mass was celebrated on Saturday 28 Jul.  He was laid to rest at Drum Cemetery.  
He lived at Summerhill, Athlone and he was survived by his wife Clare and his sons Brian and Killian.
Suaimhneas sioraí dá anam
Photo Credit: Mil Archives.