By PRO IUNVA
This article tells of the killing of Comdt Thomas P Wickham, an unarmed UN observer who was shot dead fifty five years ago on 7 Jun 1967 during the Six Day War (5 – 10 Jun 1967).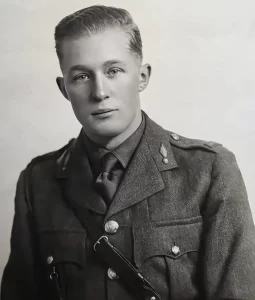 Comdt Thomas P Wickham (48) was a native of Dublin and he joined the DF as a Cadet with 14 Cadet Class in Nov 1940. He was commissioned in Oct 1941 and he was appointed to the Arty Corps. He served in the Arty Sch, 2 FA Regt and he was an instructor in the C& S Sch, Mil Col when he deployed to the United Nations Truce Supervisory Organisation (UNTSO) on 3 May 1967. He was on his second tour of duty with the UN; he had served with ONUC in the Congo from Nov 1962 to May 1963 as Ops Offr 38 Inf Bn. After induction processing at UNTSO HQ in Jerusalem, he was assigned to Damascus in Syria where he was the Assistant Ops Offr.
The Six Day War between Israel and her Arab neighbours Syria, Egypt and Jordan started on 5 Jun 1967 and UN observers were evacuated from some Observation Posts on the Armistice Demarcation Line between Israel and Syria. On 7 Jun, Comdt Wickham was travelling in a convoy from Damascus to Quineitra to relieve an OP near the village of Ar Rafid when he was shot dead by a Syrian soldier. It was reported that the Syrian soldier was later court-martialled and sentenced to 18 years in prison. Comdt Wickham was the only UNTSO fatality during the conflict; fifteen other UN personnel, who were serving with the United Nations Emergency Force (UNEF) in the Sinai Peninsula, were killed near Gaza. After the war, Israel occupied East Jerusalem, the Sinai Peninsula, the Gaza Strip, the West Bank, and the Golan Heights.
Two weeks before his death, Comdt Wickham's wife, Patricia and their three youngest children, Joseph (8), Barbra (13) and Denise (4) had joined him in Damascus. His oldest child, Brian was training as a Cadet with 40 Cadet Class in the Curragh, his daughter Joyce was in Dublin studying for the Intermediate Certificate.
On Friday, 9 Jun, Mrs Wickham and her three youngest children arrived home from Beirut via Rome and London; they were accompanied by Mrs Margaret Roche, wife of Capt Raymond Roche who was serving in Beirut.
On Saturday 10 Jun, Capt Raymond Roche escorted Comdt Wickham's coffin from Beirut to the Church of the Sacred Heart, Arbour Hill. Requiem Mass was celebrated on 13 Jun by Fr Gregory Brophy CF. The route at Glasnevin Cemetery was lined by personnel from E Comd and CTC under the command of Comdt James P Coyle, Comdt John Connole was in charge of the pall-bearers from Mil Col, Lt Christopher Leaney was OIC of the 2 Mot Sqn firing party, prayers at the graveside were recited by Fr Brophy CF, Fr Ronald Neville CF and Fr J Clarke CF.
The attendance included An Taoiseach Jack Lynch, Tanaiste and Minister for External Affairs Frank Aiken, Minister for Defence Michael Hilliard, Minister for Education Donagh O'Malley, Lord Mayor of Dublin Eugene Timmons, COS Lt Gen Sean MacEoin, AG Maj Gen Sean Collins Powell, QMG Col Patrick Curran, ACOS Col Joseph Emphy, OC E Comd Col Patrick J Hally, OC W Comd Col Harold Byrne, OC S Comd Col William Donagh, OC CTC Col James Cogan, OC AC Col K Curran, Col Joseph Murray D Arty, CMC Col Carl O'Sullivan.
The chief mourners were his wife and children, his parents Joseph and Mrs Wickham, his brothers Terence and Joseph, his sisters Mrs Helen Buggy and Mrs Maeve Storr.
The citation for An Réalt Míleata (The Military Star) reads:
Comdt Thomas Wickham gave his life in the cause of world peace while serving with the United Nations Truce Supervision Organisation near Quineitra in Syria on the 7th of June 1967 when he was hit by hostile machine gun fire.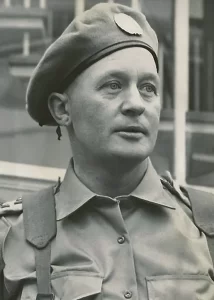 In recognition of this supreme sacrifice he is posthumously awarded An Réalt Míleata (The Military Star).
Solas na bhflaitheas air.
Photo: Comdt Thomas P Wickham, photo credit Military Archives.