From PRO IUNVA
The Killings of Cpl Fintan Heneghan, Pte Mannix Armstrong and Pte Thomas Walsh in March 1989
Thirty three years ago, at approximately 0933 hours on 21 Mar 1989, a landmine explosion killed Cpl Fintan Heneghan, Pte Mannix Armstrong and Pte Thomas Walsh all from C Coy 64 Inf Bn, United Nations Interim Force in Lebanon (UNIFIL). The explosion, near what was known as the "Green Rooms", destroyed their Renault truck. The location was close to two Irish UNIFIL posts, it was approximately 650 metres from Post 6-9B and 720 metres from Post 6-42. It was approximately 1,150 metres from the compound of the Israeli controlled De Facto Forces at Brashit. The three men had been gathering stones for gabions to improve protection around the camp at Brashit. The Senior Irish Batt Medical Officer pronounced Cpl Heneghan dead at 0955 hours and Ptes Walsh and Armstrong dead at 0956 hrs. His opinion was that all three had died instantly. The bodies were taken to Swed Med Coy at Naqoura and later they taken for autopsy to Greenberg Institute of Forensic Science in Tel Aviv, Israel.
Later on 21 Mar, Ord Corps personnel located a second anti-tank mine, this appeared to be a Russian mine MB4/62 containing approximately 2.5 kgs of explosive. This mine was destroyed on the following day.
Cpl Heneghan (28) was born on 13 Mar 1961 and he lived in Ballinrobe, Co Mayo. He was on his fourth tour of duty with UNIFIL. He was survived by his father, Jack Heneghan and his five brothers and two sisters. His parent unit was 1 Inf Bn.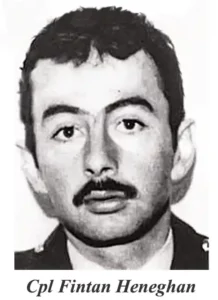 Pte Armstrong (26) was born 2 Feb 1963 and he enlisted in the PDF on 22 Feb 1980. For much of his service he was a MT driver in HQ Coy, 28 Inf Bn at Finner Camp. He was on his second tour of duty with UNIFIL. He lived in Sligo. He was survived by his widow, Grainne (they were married in Nov 1987), his mother Josephine, his brother and four sisters. Mrs Grainne Armstrong was expecting their first child weeks after her husband's death and Shannon Mannix Armstrong was born seven weeks after her father's death on the 13 May 1989.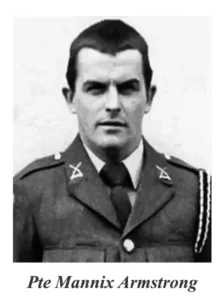 Pte Walsh (29) was born on 10 Apr 1959 and he enlisted in the PDF on 14 Oct 1980. He was on his second tour of duty with UNIFIL. He was survived by his widow Pauline and their three daughters, Donna, Laura and Paula; by his mother, Breda, eight brothers and four sisters. He lived at Tubbercurry, Co Sligo. One of his brothers, Pte Anthony Walsh was serving with him in the 64 Inf Bn in the Lebanon. Tony heard the explosion without knowing his brother was on the detail. Thomas and Anthony Walsh were married to sisters.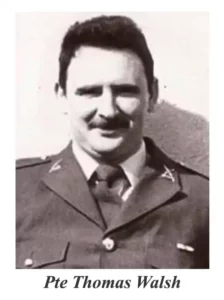 On 24 Mar, the remains of the three men were repatriated from Ben Gurion Airport, Tel Aviv via London Heathrow Airport and taken to the Church of the Sacred Heart Arbour Hill. The next morning, Saturday 25 Mar, after a removal service in Arbour Hill, the bodies were taken to Columb Barracks Mullingar and the funeral parties departed for Ballinrobe, Sligo and Tubbercurry.
Fintan Heneghan's funeral took place on the morning of Easter Sunday, 26 Mar, at St Mary's Church Ballinrobe and he was buried at Ballinrobe Cemetery.
On the morning of Monday 27 Mar, the funeral mass of Thomas Walsh took place in the Church of St. John the Evangelist, Tubbercurry and he was buried in Rhue Cemetery, Tubbercurry.
Mannix Armstrong's funeral mass took place on the afternoon of 27 Mar in the Cathedral of the Immaculate Conception Sligo and he was buried in Sligo Cemetery.
A memorial ceremony took place in UNIFIL HQ in Naqoura on 28 Mar attended by over 50 personnel from C Coy.
Ar dheis Dé go raibh a n-anamacha agus fíor comhbhrón lena dteaghlaigh
Photos credit Military archives